Elizabeth Sahadeo (BA '07) is a Senior UX Content Strategist/Writer at Google. We caught up with her to find out more about her career since she left York and her experience of living in New York during the COVID-19 pandemic.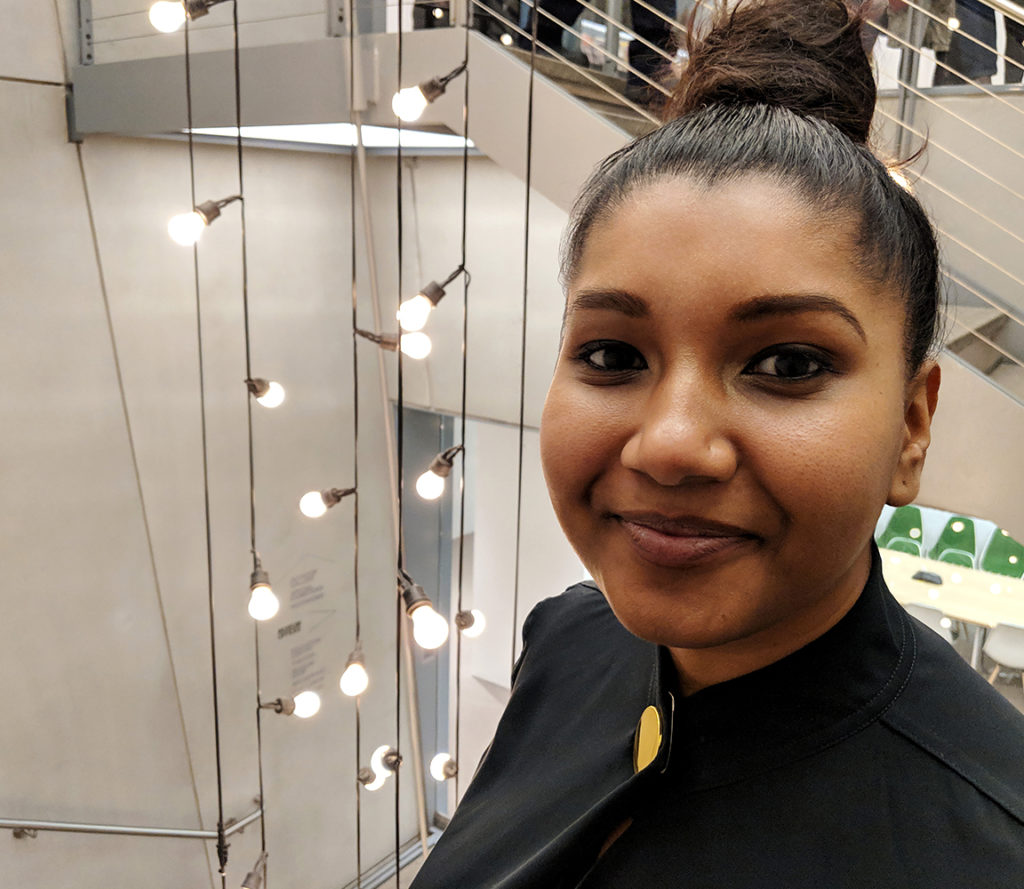 Why did you choose to study at York and what was your experience like of the English Professional Writing Program?
York in particular appealed to me for it's stellar reputation in offering high quality arts programs. I really enjoyed the hands-on experience and attentiveness from professors. My favorite memory was getting my first critique in my Foundations of Professional Writing class. The Teaching Assistant started telling me what I submitted wasn't a short story and I immediately felt I did the assignment wrong and became self-critical. But she went on to say that it would make a fantastic novel – she was sad it ended and wanted to read on! That really instilled confidence in me that I was pursuing the right field.
How did your degree prepare you for your career?
Knowing the difference between writing for print vs digital and knowing how to write for different media and genres really helped prepare me for the career path I wanted to pursue post-graduation. The Specialized English component helped me to look at things in a very analytical way which is so essential to UX thinking. The Professional Writing Component helped me to be a strong writer and to communicate my perspective to a variety of audiences.
What was your experience like of moving to New York?
It was a bit of a whirlwind. When I was offered the role at Google I was in the middle of planning my wedding. It was quite overwhelming to leave my role at the Toronto office of Shopify to start at Google and relocate to New York whilst being newly married. I have no regrets. New York is an amazing city and there's never a dull moment. It's like Toronto in many ways so it wasn't too much of a culture shock.
What's your favorite part of your current role at Google? And the most challenging?
I regularly use empathy, logic, and hard data to inform content choices across the Editors (Docs, Sheets, Slides, Sites, Keep, and Forms) and to advocate for the user. I use my writing and editing skills to write UI text that facilitates user navigation, as well onboarding, promos, error messages, instructional materials, and other components of the end-to-end user experience. I also drive vision for product language and ensure cohesive product narratives.
My favorite part of my role is the autonomy and impact I have. Millions of people use the Editors. It's really rewarding to be able to help make people's lives a bit easier through my content decisions.
The most challenging part is saying no to projects. There's always exciting projects to be involved in, but I need to constantly remind myself that my efficiency decreases if I spread myself too thin.
What advice would you give to alumni and current students who'd like to work in your field or at a high-profile company like Google?
View failure as a learning opportunity. I was rejected by Shopify 3 times and twice by Google in my career. Each rejection came with a ton of learning and all of that made me better both professionally and personally. Specifically related to writing, I highly recommend trying different types of writing. It will make you more versatile and able to identify your strengths and weaknesses.
What has your experience been like living in New York during the COVID-19 pandemic and how have you been managing stress to stay well?
It was scary, especially when New York became the epicenter of the disease. My husband and I only went out for essentials for 4 months. The bustling streets of NY were empty and it felt very isolating. I needed to significantly reduce my news intake as the raising numbers became more and more depressing.
I'm a huge advocate of Mindfulness. Pre pandemic I would mediate every morning for 20 minutes. When the Pandemic hit, I added Calm into my routine. I've also been using adult coloring books.
What are you most excited about doing when things return to a sense of normality?
I really like eating out, there's a lot of great restaurants. My husband and I have been dining outside during the pandemic but once this is over I'm looking forward to eating inside again.