As Dean of the School of the Arts, Media, Performance and Design (AMPD), Sarah Bay-Cheng knows the importance of an empty stage. 
"An empty stage is beautiful because no choices have been made yet," said Bay-Cheng. "That's when everything is possible. Every idea is possible. Every dream is possible."
That's what students see when they walk into the York University Motion Media Studio at Cinespace.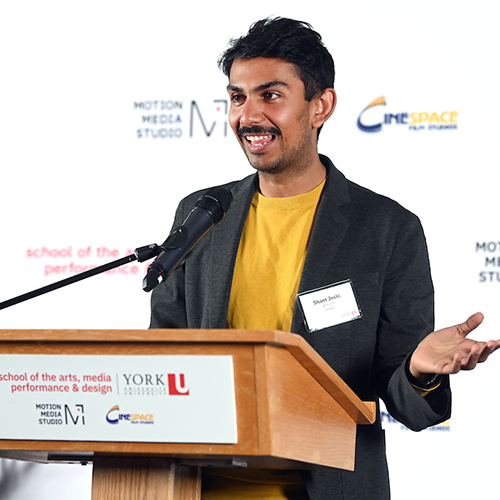 This week, York University President and Vice-Chancellor Rhonda Lenton announced a new commitment from Cinespace Film Studios that will see $3.12 million invested to enhance the York University Motion Media Studio at Cinespace and elevate the student experience.
"Over the past two years – as change has accelerated around us and new global challenges have emerged – we have witnessed just how powerful artistic expression can be in generating new knowledge, ideas, and cultural artifacts that expand our understanding of the world, enrich the experiences of the communities we serve, and drive positive change both locally and globally," said Lenton. "Cinespace's generous new donation means that each student who has access to this studio will continue to have the opportunity to develop a creative voice, contribute to our collective cultural history, and affect positive change."
York alumnus and 2021 Top 30 Alumni Under 30 recipient Shant Joshi (BFA '17), understands the value of experiential education. "I really want to pass on the experience I got from York to the next generation of students," says Joshi whose production company Fae Pictures will be filming Queen Tut at Cinespace later this year. During production, Fae Pictures will be offering workshops and field placement opportunities to current York students.
Read the full announcement story in YFile.
---