As a young Muslim woman of colour, Basma Elbahnasawy (BA '18) is a firm believer in empowering women through her work. This passion led her to become one of the organizers for Lady Hacks, the first all-women hackathon in Canada. She is also one of the founding members of Indigenous and Muslim Women for Water – an initiative that works to raise funds for clean water accessibility for Indigenous communities. A passionate advocate for women's empowerment, children's rights, and social justice, Basma currently champions women and children's stories through digital marketing and as a member of the Diversity and Inclusion Committee at UNICEF Canada.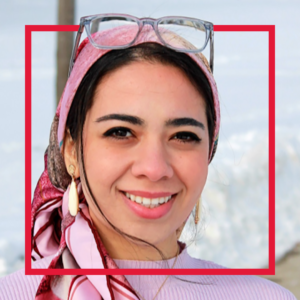 Basma credits York for providing two key experiences that helped influence the path she's on today.
"What I really appreciated about York is that the environment allowed me to step out of my comfort zone and explore diverse perspectives," says Basma. Her two work-study opportunities at York, roles with the school newspaper and York International, helped prepare Basma for her career. "I really appreciate that the York International director at the time, Diana, encouraged students to step up and take leadership. She specifically encouraged me to advocate for what I believe in."
After graduating from York, Basma moved to New York City to work at the UN Headquarters as a news monitoring intern where her contributions included documenting breaking political and social developments in the Middle East for the secretary-general's team.
"My experience at the UN taught me the importance of listening, regardless of if I agree with an individual's viewpoint or not," she says. "Everyone has a story and deserves to be heard."
With a desire to continue providing young people with access to resources and opportunities that empower them to make a positive mark on the world, in 2022 Basma was selected as a Young Management Team representative for UNICEF's National Committees. In this role, Basma currently leads the digital transformation efforts for staff under 35 years old. It is through her commitment to social justice that she aims to amplify young and diverse voices at UNICEF and around the world.
"My volunteer work is catered towards young people in Europe, Canada and the US. I work closely with other UNICEF Young Management Team representatives to provide opportunities for staff under 35 years old in areas such as mental health, digital innovation, mentorship and collaboration. I think this is essential to ensuring that young people have a voice, purpose, and leadership," Basma says. "Additionally, I think some of the world's biggest problems stem from the lack of access to basic needs. This is why my day-to-day work is tailored towards helping provide critical aid for those in need globally. This includes access to resources such as, but not limited to, education, nutrition, water, health, safety, shelter and clothing."
After working in a variety of capacities over the past few years Basma isn't certain what industry she'll ultimately focus on but hopes to continue emboldening young people.
"Helping people is a very strong 'why' for me," she says. "In the past four years I have worked in journalism, website design, digital marketing and fundraising, so it is sort of hard to say which field I will actually stick to, but my main goal is to continue providing young people with access to necessities, so they are empowered to thrive with a purpose. My hope is to continue providing young people with access to resources and opportunities that empower them to make a positive mark on the world."
When it comes to sharing advice for current students, Basma says this: "University is a very exciting time with a lot of learning opportunities – always use any setbacks as leverage. There is a reason why some of the most successful people are also the ones who have faced a lot of hurdles. My biggest lesson learned through university is that sometimes it is the decisions, not conditions, that determine one's destiny. You got this!"
Basma was named one of York University's 2022 Top 30 Alumni Under 30. Learn more about the program and the impressive young alumni on the list.
---