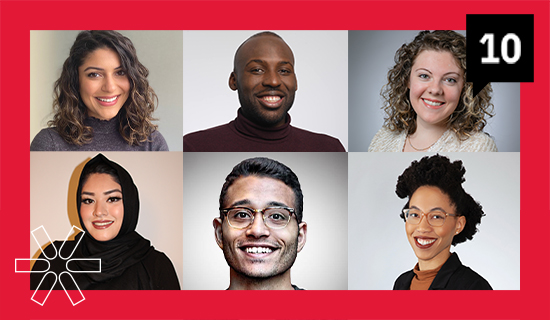 10. York announced its 2022 Top 30 Alumni Under 30 list
Representing every Faculty at the University, these alumni are applying the education, skills and experiences they received at York to meaningful careers and community service endeavours demonstrating a long-standing commitment to the public good. Our Top 30 Alumni Under 30 list features an inspiring group of leaders who are creating positive change around the world.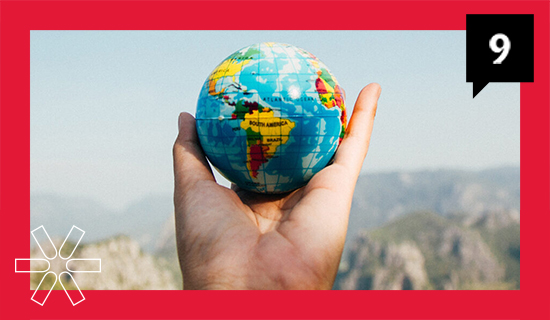 9. York launches the York Emergency Student Support Fund

In April, York launched a fundraising campaign to establish the York Emergency Student Support Fund, which provides essential financial support to students affected by conflicts, natural disasters, and other geopolitical events and crises.
8. Convocation and alumni celebrations
This year we returned to in-person graduation ceremonies for both Summer and Fall Convocation. June marked the largest convocation in York's history with 6000 graduates, 3200 alumni convocates, and 26 ceremonies.
7. National Bank Open Events
In August, the National Bank Open was held at York U's Sobeys Stadium with 600 guests in York U's Executive Suite.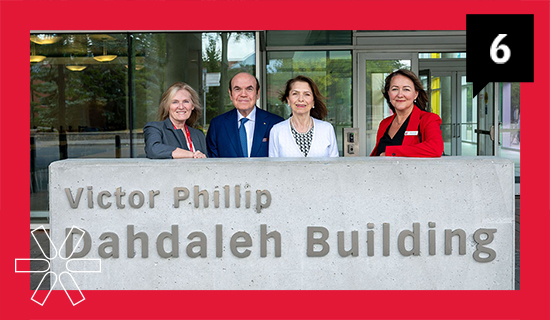 6. York welcomes alumnus and philanthropist Victor Dahdaleh to celebrate $4-million gift
York celebrated the Victor Dahdaleh Foundation's new $4-million gift to the University, which will support upgrades to the Victor Phillip Dahdaleh Building, provide operating funding to CIFAL York and support the Advanced Disaster, Emergency and Rapid Response Simulation (ADERSIM) initiative with a new operations facility.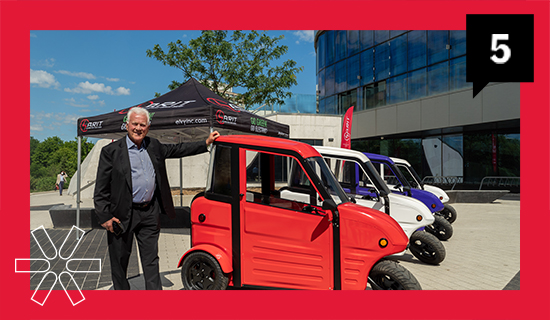 5. Frank Stronach announces $100,000 gift
In June, York University was established as a living lab for next-gen electric vehicles known as the SARIT (Safe, Affordable, Reliable, Innovative Transit). Frank Stronach donated $100,000 to York University which will support research opportunities for faculty, students, experiential learning, co-ops and potential jobs. The partnership will also help York fulfil its commitment to building a more sustainable world.
4. Dr. Allan Carswell is honoured as the Association of Fundraising Professionals, Outstanding Philanthropist of the Year
Dr. Allan Carswell, a renowned physicist, former York University professor and changemaking philanthropist, was honoured as the Association of Fundraising Professionals, Outstanding Philanthropist of the Year. The award – presented to Dr. Carswell in November 2022, recognizes "an individual or family that has demonstrated outstanding civic and philanthropic leadership through a proven record of exceptional generosity and financial support."
One of York's greatest supporters, Dr. Allan Carswell was the driving force behind the establishment of the Allan I. Carswell Observatory, which is home to the largest telescope on a Canadian university campus.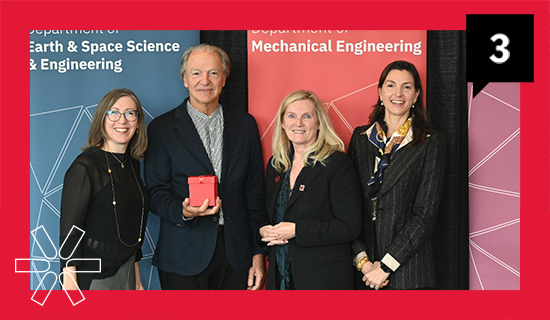 3. Lassonde School of Engineering celebrates 10th anniversary
In November, Lassonde students, faculty, and alumni reunited to celebrate Lassonde School of Engineering's 10th anniversary and the school's accomplishments. The 10th anniversary alumni mixer was held at Steam Whistle Brewery and welcomed hundreds of alumni to reunite with classmates.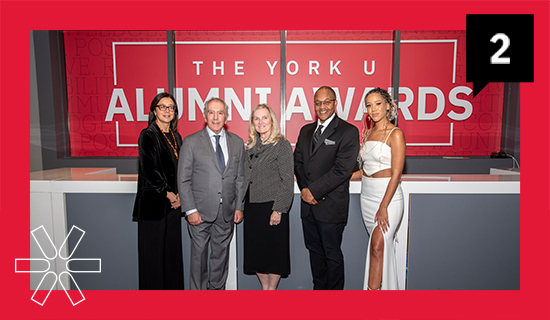 2. The York U Alumni Awards returns in person
The York U Alumni Awards were held on November 16 at the Glenn Gould Studio. The York University community gathered to honour four outstanding York alumni, recognize two years of Top 30 Alumni Under 30 award recipients and celebrate York pride with an audience of 300 alumni, students, donors, and friends.
This year we honoured Chancellor Gregory Sorbara with the Outstanding Contribution Award, Dr. Eileen de Villa with the Outstanding Achievement Award, Michael H. Tulloch with the Tentanda Via award and Larissa Crawford with the One to Watch award.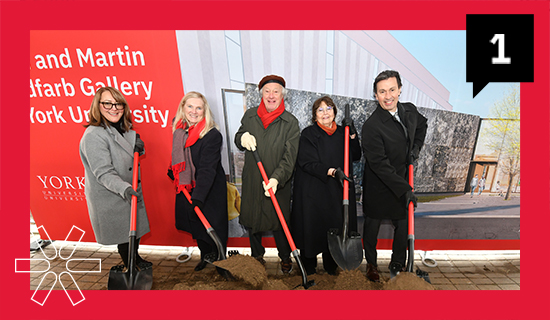 1. Joan and Martin Goldfarb Gallery of York University groundbreaking
Last month, York University also celebrated the official groundbreaking for the new Joan and Martin Goldfarb Gallery of York University (GGYU). Thanks to an original gift of $5M — and a new commitment of an additional $1M — from Joan and Martin Goldfarb, the GGYU is poised to be an integral point of connection where we celebrate local and international artists and audiences.
This new public gallery will redefine the Art Gallery of York University into a multi-site space, highlight architectural innovation and define a space for the exhibition of contemporary art.