To those close to her, she's Marie Foolchand, a "quiet girl" with a passion for poetry and travelling. But to her audience of more than one million followers, she's better known by her TikTok handle @laframbuesaa.
When Marie first joined the platform, she never expected she might one day be rubbing shoulders with celebrities, representing some of the world's top brands, and racking up millions of views and likes. But what started as a creative pastime quickly became an outlet for her to entertain, inspire and educate people from across the globe.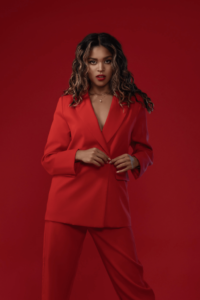 "My goal is to make people happy, and I never realized that could be possible through creating content online," shared Marie. "With social media, there are no boundaries. Like at Glendon, there are so many different people to interact with and perspectives to discover, and these are the tools I need to make better content."
For the past two years, Marie's TikTok channel has delighted people of all ages with funny videos about daily life to informative skits about her experience as a Glendon student. Having emigrated to Canada from France at only age nine, she's even been known to showcase her French language skills, an essential part of her life that she was able to maintain by attending Glendon.
"Language is incredibly important to me, and being bilingual can open so many doors for your future. French Studies allowed me to dive even deeper into the language and build bridges both personally and professionally. I'm proud to represent French-speaking people on such a big platform, and I hope what I do encourages others to learn another language one day."
Though Marie's final years at Glendon were shadowed by the COVID-19 pandemic and the challenges of studying at home, the added time between classes became an opportunity for her to generate captivating content. Following her graduation in 2021, she began investing in her craft with professional camera equipment, technology and software, creating higher quality videos and reaching even more people.
The hard work paid off quickly – before she knew it, Marie's following had grown past the coveted one million mark. With her popularity rising, Marie was also presented with new opportunities to expand her profile. These included partnerships with incredible global brands like Warner Bros. and the chance to attend high-profile events like the 2022 JUNO Awards this past May.
"I never dreamed I'd be making an income from this, let alone working with my favourite creators or sitting alongside my idols like Shawn Mendes or Avril Lavigne. Being treated as equals on Canada's biggest stage showed me that my hard work is worth it and that I'm being taken seriously."
Though she's now taking over the world one TikTok at a time, Marie credits Glendon with building her self-esteem and preparing her to step in front of an even bigger audience – and she wants others to know they can do the same.
"Don't settle for what you think is meant for you. I used to believe what I was doing now would be out of reach for a 'quiet girl' like me. Glendon taught me to see so much beauty in uncertainty and celebrate what makes me unique. That's where some amazing things start to happen."
Rapid Fire Questions
What is your favourite city in the world and why?
London, UK. I have lots of family there, so I visit quite often. It's such a lively city no matter what time of day, and I love everything British.
What is your favourite hobby?
Besides filming content, I love crafting or cooking – anything that makes me feel productive. My favourite thing to cook is Bolognese (and I'd say it's rather delicious)!
What or who inspires you most?
Anything and everyone. I absorb so much from every person or experience, and it all has its purpose. I then use it to build better content!
If you had one, what would be your motto?
Work hard, play hard.
What was your favourite place on campus during your time as a Glendon student?
The outdoor spaces on campus were so beautiful. No matter the season, it was always a great place to study, catch up with friends, go for a walk or simply relax.