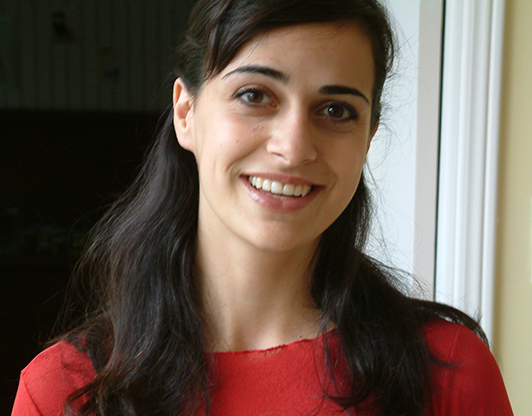 Sunnuz Sarah Taheri was a vibrant, charming young artist who expressed her passions through singing, poetry, painting and other visual arts. She took an active role in furthering women's rights, protecting the environment, politics, philosophy, her community and society, and the plight of the poor.
Taheri completed a BA in English at York in 2005, although she loved her vocal jazz courses and singing classical, blues, soul and hip hop most of all. She hoped to study opera singing at Juilliard one day. Yet in 2013, at age 32, she died unexpectedly.
"Her death was tragic, and the greatest shock our family ever endured," says her uncle, Farrokh Eshragi.
"The idea of creating a York University music scholarship in Sunnuz's name came to us within a day or two after her passing. It was like lighting a small candle in the middle of the darkness that had befallen our family. We were inspired by the idea of keeping her spirit alive in this way; allowing what she might have enjoyed to continue on through others.
"Everyone in our family plus our friends and colleagues wanted to make it happen," explains Eshragi. Through personal donations and a fundraising concert, $100,000 was raised, then doubled by a 2014 Graduate Studies Award Program. York University endowed the funds to create the Sunnuz Sarah Taheri Graduate Award.
"This annual $5,000 award will help relieve some of the financial burden for outstanding students in the graduate fine arts program," said Eshragi. "We hope this scholarship will help the students to dedicate more of their time to their work and feel less of the obstacles and difficulties that they might otherwise experience."
The first student award recipient is Sophie Bisson, an opera singer and third year PhD student in musicology. Her doctoral work focusses on the musical lineage and legacy of Italian-Canadian soprano Lina Riccoboni Narducci (1915-1997).
The Sunnuz Sarah Taheri Graduate Award helped Bisson pay for membership fees to organizations related to her field of research as well as attend and present her work at out of town conferences where she made important connections with other students and scholars.
Bisson was particularly moved to meet Farrokh Eshragi and Sunnuz's mother, Nazila Taheri. "I am grateful that this wonderful family valued my research. Meeting with them and making a personal connection was incredibly moving," says Bisson. "I hope my work lives up to their gift but, mostly, I hope they find comfort in each year's recipient and the legacy they are creating."