La version française suit la version anglaise.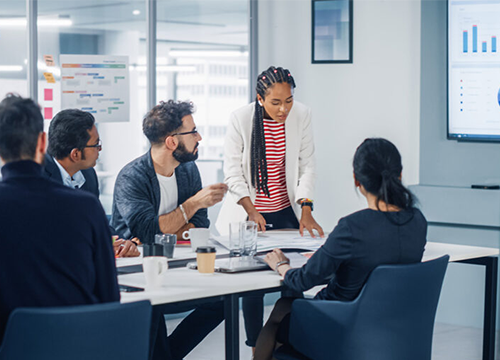 A new gift from Desjardins to York University's Innovation York will expand two critical accelerator programs that provide training and support in entrepreneurship and help promote innovation.
The funding will continue both Desjardins and York's commitment to fostering positive change for diverse local communities and uniquely global perspectives.
The gift supports two initiatives at York, with an infusion over five years to GENIAL (Glendon Entrepreneuriat et Innovation A L'International) and over two years to ELLA (Entrepreneurial Leadership & Learning Alliance).
"We are thrilled to partner with Desjardins to create greater access and opportunities for women-led businesses," says Jennifer MacLean, assistant vice-president, innovation and research partnerships at York University. "This partnership will enable York University's YSpace to expand our impact in the community and continue to foster the skills and talents of young entrepreneurs."
GENIAL is a bilingual initiative that offers training, extracurricular activities, and a research program in entrepreneurship and innovation. Desjardins' gift will allow GENIAL to scale up its bilingual Entrepreneurial Skills Passport (ESP) program that is currently offered to Glendon students. Through the ESP program, GENIAL has trained a diverse population of students from liberal arts and business backgrounds, including domestic and international students enrolled in business, economics, communications, translation, international studies, sociology and psychology. GENIAL was launched in 2017 by Angelo Dossou-Yovo, associate professor of management and entrepreneurship.
Desjardins also supported York's first accelerator focused on supporting women-led product- and service-based businesses. The donation to ELLA – a program created by women, for women – will support the program for the next two years. The funding will help with the sustainability of ELLA's accelerator programming that provides women entrepreneurs with access to the community, knowledge and resources they need to scale their business.
"With Desjardins' support, YSpace's ELLA program will be able to help more women entrepreneurs, particularly those in consumer packaged goods and professional services, take their businesses to greater heights and scale up into national and international markets," said David Kwok, associate director, entrepreneurship. "This gift recognizes the value in supporting women-led product- and service-based businesses, providing them with resources as robust as those currently found in the tech sector."
To recognize their contribution and commitment, Desjardins is invited to take part in ELLA's national advisory committee and act as subject-matter experts to help shape the program's future.
"Entrepreneurs play an important role in our society. They are creating innovative solutions to the needs of Canadians and the challenges they face," said Guy Cormier, president and CEO of Desjardins Group. "We are proud to support York University and their young entrepreneurs. They will help shape the world of tomorrow and we're incredibly happy to be part of something that will give them the resources and tools they need to pursue their goals in life."
---
Le financement du Mouvement Desjardins permet d'élargir les programmes d'entrepreneuriat à York
Un nouveau don de Desjardins à l'Université York permettra d'élargir deux programmes accélérateurs cruciaux qui offrent une formation et un soutien à l'entrepreneuriat et qui contribuent à promouvoir l'innovation.
Le financement permettra à Desjardins et à York de poursuivre leur engagement envers la création de changements positifs pour les communautés locales diversifiées et d'offrir des perspectives mondiales uniques.
Le don appuie deux initiatives à York avec un apport sur cinq ans pour GENIAL (Glendon ENtrepreneuriat et Innovation À L'international) et un autre sur deux ans pour ELLA (Entrepreneurial Leadership & Learning Alliance).
« Nous sommes ravis de nous associer à Desjardins pour améliorer l'accès et les possibilités d'entreprises dirigées par des femmes, déclare Jennifer MacLean, vice-présidente adjointe des partenariats en matière d'innovation et de recherche à l'Université York. Ce partenariat permettra au YSpace de l'Université York d'accroître son effet sur la communauté et de continuer à encourager les compétences et les talents des jeunes entrepreneurs et entrepreneuses. »
GENIAL est une initiative bilingue qui propose des formations, des activités extrascolaires et un programme de recherche sur l'entrepreneuriat et l'innovation. Le don de Desjardins permettra à GENIAL d'amplifier le programme de formation bilingue Passeport Compétences Entrepreneuriales (PCE) actuellement proposé à la population étudiante de Glendon. Grâce au programme PCE, GENIAL a formé une population étudiante diversifiée issue des arts libéraux et du monde des affaires, notamment des étudiantes et étudiants nationaux et internationaux inscrits à des programmes de commerce, économie, communication, traduction, études internationales, sociologie et psychologie.
GENIAL a été lancé en 2017 par Angelo Dossou-Yovo, professeur agrégé de gestion et d'entrepreneuriat.
Desjardins soutient également le premier accélérateur de York axé sur le soutien aux entreprises de produits et de services dirigées par des femmes. Le don fait à ELLA — un programme créé par des femmes, pour des femmes — financera le programme pendant les deux prochaines années. Ce financement contribuera à la durabilité du programme d'accélération d'ELLA, qui permet aux entrepreneuses d'accéder à la communauté, aux connaissances et aux ressources nécessaires pour développer leur entreprise.
« Grâce au soutien de Desjardins, le programme ELLA de YSpace sera en mesure d'aider davantage d'entrepreneuses, notamment dans les secteurs des biens de consommation et des services professionnels, à faire progresser leur entreprise et à s'implanter sur les marchés nationaux et internationaux, a déclaré David Kwok, directeur associé, Entrepreneuriat. Ce don reconnaît la valeur du soutien apporté aux entreprises de produits et de services dirigées par des femmes, en leur fournissant des ressources aussi solides que celles que l'on trouve actuellement dans le secteur de la technologie. »
Pour reconnaître leur contribution et leur engagement, les Caisses Desjardins sont invitées à participer au comité consultatif d'ELLA et à agir en tant qu'expertes en la matière pour façonner l'avenir du programme.
« Les chefs d'entreprise jouent un rôle important dans notre société en créant des solutions novatrices pour répondre aux besoins de la population canadienne et aux défis auxquels elle est confrontée, a déclaré Guy Cormier, président et chef de la direction du Mouvement Desjardins. Nous sommes fiers de soutenir l'Université York et ses jeunes chefs d'entreprise qui contribueront à façonner le monde de demain. Nous nous réjouissons de participer à un projet qui leur donnera les ressources et les outils nécessaires pour poursuivre leurs objectifs de vie. »