Acentos looks for the best composition, essay, and/or creative work from each Spanish class offered by York University's Department of Languages, Literatures and Linguistics. Every year, best works are recognized and published on our online magazine and newsletter.
Submissions are accepted throughout the year for upcoming publications.
Spring 2023 Special Edition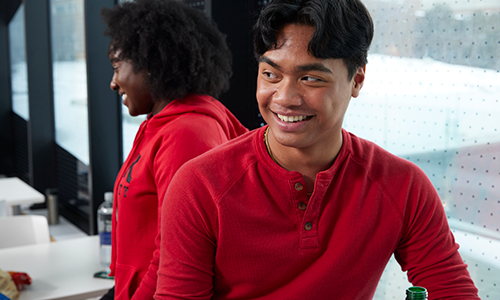 Volume 5, April 2023
Editor-in-Chief: Fernanda Carra-Salsberg
Content
Hasnain, Sakina. Defying Stereotypes: Giving a Voice to the Unheard and Shining a Light to the Unseen- A Reflection on Isabel Inclán's Presentation (PDF)
Hasnain, S., Huang, C., Kaur, M. & Koutoumanos, R. More Than Just Language: An Exploration of the Formation of Migrant Cultural Identity Amongst Second-Generation Migrants. A Cumulative Assignment (PDF)
Joseph, Marsha. Looking Forward to Positive Change while Staying True to What we Love- A Reflection following Joe Correia's Visit (PDF)
Kasimov, Michelle. Azul- La visita de Itzel Ávila a la clase de SP1000 (PDF)
Kaur, Mahakprit. Femicide and the Exploration of Cultural Multidimensionality- Reflection on Martha Bátiz's Talk (PDF)
Koutoumanos, Stavroula. ¿Realidad o fantasía? Entendiendo Latinoamérica por medio del Cuento. Una reflexión. (PDF)
Ng Chang, Nicole. Publish in English or Perish- Examining the Challenges Undergone by Second Language Writers. A Reflection following James Corcoran's Presentation (PDF)
Salako, Israel. Learning to Work as a Team: A Reflection (PDF)
Siemens, Giulianne. La importancia del amor familiar (AP/SP3000) (PDF)
Vrapi, Fjona. Antares Publishing House and the Translation of Latin American Experiences and Culture through Writing- A Reflection Following Margarita Feliciano's and Steve Glassman's (PDF)
Wang, (Xuan) Matilda. Las personas sordas no necesitan aprender a hablar (AP/SP3550) (PDF)
Editor's note…
This bilingual, English-Spanish, Spring publication combines reflections written by students registered in AP/SP4990 Foreign Language and Digital Media and papers produced by students enrolled in Spanish courses from the Spanish Studies program (DLLL) at Keele and Hispanic Studies at Glendon.
Foreign Language and Digital Media is a fourth year, Experiential Education course that focuses on reinforcing students' oral, reading, writing, research, co-editing, and translation skills. The chosen reflections followed visits from professionals and academics invested in the areas of journalism, fiction and non-fiction narratives, and academic publications.
For this fourth year, capstone course, registered students have been guided in the production of individual and collaborate projects of various styles and lengths. They have conducted research, including interviews, that focus on current matters affecting the Spanish Speaking world -within and outside of Canada-.
This publication is an expression of our course content and students' collective involvement, commitment, creativity, and willingness to work collaboratively towards the publication of this magazine's special edition. Added to the reflections, this edition includes a cumulative essay project, and essays written by students registered in Spanish classes from the Spanish Program, Department of Languages, Literatures and Linguistics.
Past Publications