Bachelor of Arts (BA) - Honours
Spanish is the second most spoken language in the world. Fluent university graduates are in demand not only in the international business community, but also sought by agencies and NGOs such as the World Bank, World Health Organization and United Nations.
Many of our graduates are at the top of their fields and go on to work in diverse careers, from social services and medicine to media and the arts. You'll also gain valuable skills and build your network by participating in faculty research projects and community-engaged events.
Explore the language, literature and linguistics of the Spanish-speaking world alongside award-winning professors. You'll study the language's development and its variations worldwide. Examine the range of literature, from the Spanish Civil War to the vast, innovative work of Latin America's writers; from Cervantes and the modern novel to micro-literature and songs as poetry.
Quick Links
Are you a future student?
OUAC Code: YFN
What you'll learn
---
Develop a strong command of the Spanish language in both its written and spoken forms.
Learn about Spanish and Latino literature, and the history and evolution of the language over time and between continents.
Examine the contemporary social and cultural context of key issues facing Spanish-speaking societies in literature and media.
Hands-on experiences
---
Gain course credit for volunteer experiences, such as those with scholarly conferences and community organizations.
Acentos, our student-run literary and arts magazine, provides publication, editing, marketing and community relations skills.
Connect with peers through university lecture series, and theatre, music and literary events.
Immerse yourself in Spanish culture and language through study abroad opportunities.
Spanish is among the top 10 most spoken foreign languages in Canada. Over 1.8 million Canadians speak Spanish - and this is why many of our alumni work in areas such as international business, government agencies, translation, education, law, travel and tourism, non-profit organizations and social media.
— Fernanda Carra-Salsberg
Assistant Professor, Spanish Studies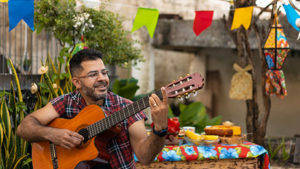 April 25, 2022
Summer 2022 Latin Sparks Festival
Upcoming Events