Bachelor of Arts (BA) - Honours
German is a major language of business, diplomacy and tourism in the European Union and eastern Europe.
Immerse yourself in the German language and its rich culture. As you learn the language, you'll also study German culture and society through a wide range of perspectives, including literature, film studies, political science, history, urban studies, art history and women's studies.
We collaborate and work with instructors from other Faculties, so you'll learn from a variety of disciplines. In your upper years, you can pick from courses in other departments that are relevant to German Studies, such as history and politics.
German studies is divided into two streams (Language, Literature & Culture; and Culture & Society) and offers flexible degree options: Pursue a major or minor program, or select individual courses to complement your existing area of study. Many courses are taught in English and are open to students from all disciplines.
Quick Links
Are you a future student?
OUAC Code: YFN
What you'll learn
---
Apply interdisciplinary research methodologies and theoretical approaches to your studies.
Develop your curiosity, creativity and imagination through the analysis of cultural texts from German-speaking Europe.
Develop transferable skills in critical thinking, oral and written communication and project management in both English and German.
Hands-on experiences
---
Students majoring in German are encouraged to study in Germany for one year through our study abroad courses. York has Canada's best selection of exchange programs with partner institutions in German-speaking Europe, in conjunction with the Ontario-Baden-Württemberg program.
In-class experiences include film courses that incorporate Toronto events such as TIFF and the Goethe Film Series.
Hear guest speakers from film, theatre, government and diplomacy.
Throughout our courses, we combine language instruction with the study of cultural and political history. We explore historical events, artistic movements, intellectual developments, and the transnational and cross-cultural connections that have shaped the German speaking world. Students come to our program for a variety of reasons, but the common denominator is an interest in an internationally-focused education and international study and career opportunities.
— Christina Kraenzle
Associate Professor & Program Coordinator, German Studies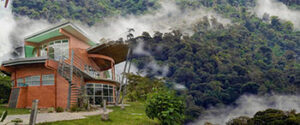 March 21, 2023
Las Nubes Study Abroad | GL/SP/COMS 4608