Harkirat Singh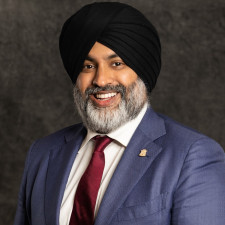 Deputy Mayor in the City of Brampton
Harkirat Singh is a well-known community leader in Brampton. Prior to his role as City Councillor, he served a four-year term as School Board Trustee at the Peel District School Board. As a Trustee, he sat on the Audit Committee, Instructional Program/Curriculum Committee and Physical Building and Planning Committee. He was also the regional representative at the Ontario Public School Board Association (OPSBA). Alongside his role as a Trustee, he spent two and a half years as a Professor at Lambton College and two years as a Professor at Humber College teaching Marketing & Entrepreneurship. Currently, he sits as a Research Fellow at the Broadbent Institute. In 2016, Harkirat Singh was nominated for a mentorship award by the Brampton Board of Trade for his work with youth.
Harkirat holds a BA from the University of Toronto where he majored in Economics and Public Administration, MSc. in Economics from London Metropolitan University and a MBA from the Schulich School of Business where he specialized in Marketing, Entrepreneurship and Organizational Behaviour. Additionally, Harkirat has completed all the courses from the Association of Municipal Clerks and Treasurers of Ontario (AMCTO).
Currently, Harkirat is the Deputy Mayor in the City of Brampton, City Councillor for Wards 9 & 10 and Vice-Chair of the Planning & Development Committee. Through these roles, Harkirat continues to advocate for his constituents and promotes community engagement through his roles.