Kimberly Badal (BSc '12) was the recipient of a Bryden Alumni Award from York University in the One to Watch category, reserved for alumni who have made a significant impact in their field or community within 15 years of a bachelor's degree or 10 years of a professional or graduate degree.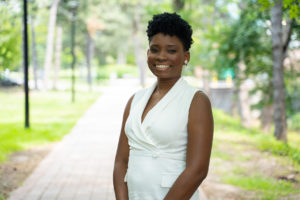 Badal is a cancer researcher and advocate working in the Caribbean region. In August 2016, she founded the Caribbean Cancer Research Initiative (CCRI), a non-profit organization focused on evidence-based solutions for cancer prevention and management. Badal believes that there will be radical improvement when she is able to shape her research agenda and measure success based on the patient experience.
CCRI is currently working on its flagship project, the introduction of cancer patient navigation in the Caribbean – helping guide patients and families through the cancer care system. They are also setting up genetic testing and counselling services for patients at high risk for cancer and other illnesses.
Badal earned an undergraduate degree in biomedical science at York University and a master's degree in biomedical science at St. Radboud University in the Netherlands. She is currently pursuing her PhD in molecular genetics at the University of the West Indies.