At the Faculty of Science at York University, we are fostering scientific discovery and tackling global challenges to create positive change in our world. Our researchers collaborate and engage globally and here at home, enhancing our academic excellence, diversity, and our capacity to build a better future for everyone.
We are home to more than 150 researchers working in the Departments of Biology, Chemistry Mathematics & Statistics, Physics & Astronomy, and Science, Technology and Society. Among this group are 18 Royal Society of Canada Fellows and College Members, and 24 Canada Research Chairs, York Research Chairs, and Endowed Chairs. Our researchers are funded by the Natural Sciences and Engineering Research Council (NSERC), the Canadian Institutes of Health Research (CIHR), the Social Sciences and Humanities Research Council (SSHRC), Canada Foundation for Innovation (CFI), the New Frontiers in Research Fund (NFRF), Mitacs, and many other agencies, partners and foundations.
---
Research Support Contacts
The Associate Dean – Research & Partnerships provides leadership and direction for matters related to (1) the research enterprise of FSc, (2) partnerships with industry, government, and other Faculties/educational institutions, and (3) oversees matters related to postdoctoral fellows or visitors.
The Director of Research and Partnerships and the Research Officer provide local support to faculty members by identifying funding opportunities, reviewing and editing funding applications, and assisting with developing research budgets. Assistance may also include coordinating agreements, transferring funds to or from other institutions, or liaising with funding agencies or institutions to clarify policy questions or procedures.
Faculty Research Administrators provide assistance in the financial administration of research grants or contracts. They answer questions about the eligibility of expenses against research grants, provide information on York's Finance policies and procedures, and assist with expense forms completion, as well as other Finance and HR/payroll related forms.
Research funding*
$20.6M
Total new research funding
$8.0 M
Provincial, national and international agencies
$4.8 M
Natural Sciences and Engineering research Council of Canada (NSERC)
$1.6 M
Canada Research Chairs
*Amounts are for calendar year 2022
Explore FSc Research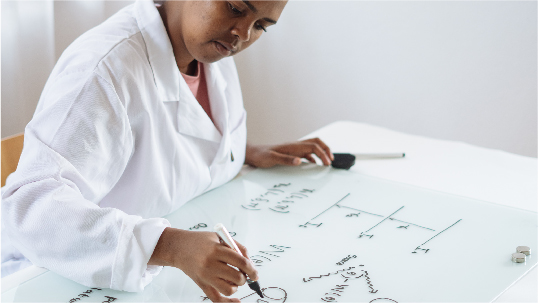 Award Opportunities
Explore various award opportunities available to researchers in the Faculty of Science, including important deadlines.