Congratulations to Professors Jianhong Wu and Jane Heffernan, Department of Mathematics & Statistics, for joining the York Research Chairs (YRC) program – the University's internal counterpart to the national Canada Research Chairs (CRC) program that recognizes outstanding researchers.
They are among the ninth cohort of researchers to be appointed since the establishment of the program in 2015. These YRCs' terms run for five years.
"The York Research Chairs program is an important component of institutional supports for research, reflecting our commitment to addressing complex global issues and driving positive change in our local and global communities," said President and Vice-Chancellor Rhonda Lenton. "This year's YRCs have made important contributions in their fields, and their future work promises to augment our understanding of societal challenges, including public health and rising threats to democracy. I want to congratulate all our YRCs and thank them for their continued dedication to research excellence."
The YRC program seeks to build research recognition and capacity, with excellence in research, scholarship and associated creative activity serving as selection criteria. It consists of two tiers: Tier 1 is open to established research leaders at the rank of full professor; Tier 2 is aimed at emerging research leaders within 15 years of their first academic appointment.
Jianhong Wu – Tier 1 York Research Chair in Industrial and Applied Mathematics
Wu is an expert in dynamical systems, disease modelling and vaccine evaluation. His YRC program aims, in part, to understand biological and physical systems wherein predation occurs. The research will contribute to the University's growing capacities in disaster and emergency management and in AI research.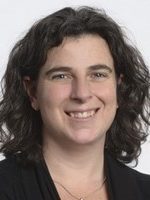 Jane Heffernan – Tier 2 York Research Chair in Mathematics of Immunity and Infectious Disease
Heffernan has a body of work in the field of infectious disease modelling. In her YRC research program, Heffernan will develop models of immunity against infection – both in individuals and in populations – which can be used to quantify distributions of immunity and its protective effects. Ultimately, the results of the work will serve to inform public health decision-making for mitigation and vaccination policies to combat infectious diseases, with particular emphasis on COVID-19 and influenza.
Read the full story in yFile.