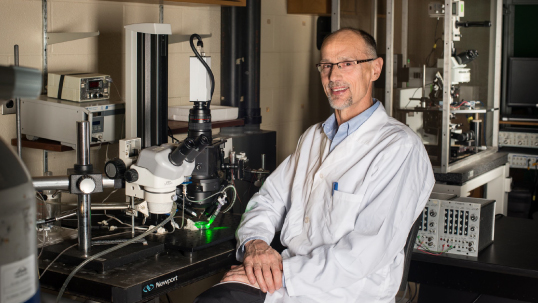 Congratulations to Professor Peter Backx for being elected as a Fellow to the Canadian Academy of Health Sciences (CAHS), considered one of the highest honours for individuals in the Canadian health sciences community.
Backx, a professor in the Department of Biology, holds the Canada Research Chair in Cardiovascular Biology. He has been at the forefront of research designed to better understand the molecular and ionic underpinnings of the heart's electrical and contraction properties, particularly in relationship to disease. His work has bridged information gaps related to cardiac arrhythmias, particularly atrial fibrillation, and led to new treatments for these conditions.
He has published more than 200 peer-reviewed articles, with more than 14,000 citations, and delivered more than 180 distinguished invited lectures at the national and international level. He has obtained more than $14M in research funding as a principal investigator or co-investigator within the last ten years, and he has supervised 26 graduate students and 17 post-doctoral fellows, most of which have moved on to academic and industry positions worldwide.
Backx is a Fellow of the Royal Society of Canada and the American Heart Association and the recipient of numerous awards, including the Lowell Langille Mentorship Award from the Heart & Stroke Foundation of Ontario, a Merit Award from the Heart & Stroke Foundation of Canada, the John Foester Distinguished Lecture Award from St-Boniface Hospital Research Institute, and the Norm Alpert Award from the International Society for Cardiovascular Research.
Read the full announcement from the CAHS.