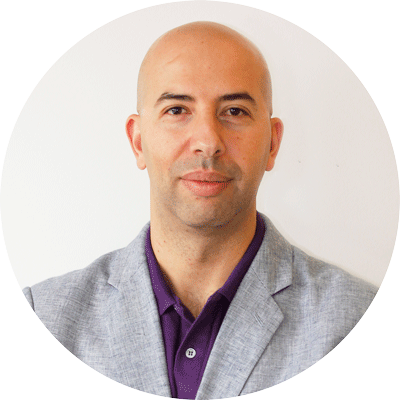 Amro Zayed
Research Scientist - Honeybee GeneticsBSc Hons '00, PhD '06 (Biology)
When he first enrolled at York, Amro Zayed (BSc Hons '00, PhD '06) had no idea he'd one day run his own bee genetics lab here—or that he'd become his supervisor's professional colleague.
"I was attracted to the Environmental Science undergraduate program because of its interdisciplinary emphasis and small class sizes," Amro says. "We were immersed in research from the get-go, and I relished every minute spent collecting and analyzing data."
Falling in love with insects and bees his third year, Amro connected with world-renowned bee biologist Professor Laurence Packer and joined his lab. "My undergraduate honours thesis project with Laurence literally changed my life," Amro says. His work as an undergrad led to a bee genetics project in Florida and to two published articles. Sold on science and research, Amro decided to continue his study as a biology PhD student in Professor Packer's lab. His doctoral research on bee conservation genetics won him the Governor General's prestigious Gold Medal in 2007.
Amro held a Natural Sciences and Engineering Research Council of Canada's Postdoctoral Fellowship at the University of Illinois' Department of Entomology in Dr. Charles Whitfield's lab from 2006 to 2008. He then served as a fellow for the Institute for Genomic Biology's Genomics of Neural & Behavioral Plasticity Theme (theme leader: Dr. Gene Robinson) at the University of Illinois from 2008 to 2009 before returning to York as an assistant professor.
At York, Amro leads a research program on honey bee behavioural genetics and genomics. In 2010 he received the Ontario Government of Research and Innovation's Early Researcher Award, and he and his findings have been featured in media outlets such as CBC, ABC News and USA TODAY.
Amro hires many York undergraduates in his own lab, and is enthusiastic about sharing their successes and contributions. He credits York's Research at York (RAY) undergraduate research program with helping him recruit who he calls "some of York's top undergraduates."
"I really enjoy the drive, enthusiasm, and ingenuity of York undergrads," he says. "They have substantially contributed to most of the lab's impactful research over the past four years."
"The best students at York are on par with the best students elsewhere. York U is a very exciting place to be."