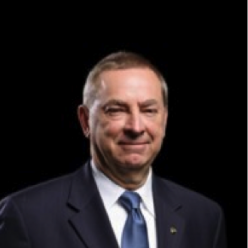 Nigel Lockyer
Director, Fermi National Accelerator LaboratoryBSc Spec. Hons. '75 (Physics)
Dr. Nigel Lockyer (BSc Spec Hons '75) is a leading voice in the field of high-energy particle physics. He's been named director of two of the most prestigious scientific research facilities in North America—and this successful scientific career was launched right here, in York's Department of Physics & Astronomy.
After graduating from York in 1975 with his Bachelor of Science degree in physics, Nigel completed his PhD in physics from Ohio State University. He then took up a prestigious postdoctoral fellowship at the SLAC National Accelerator Laboratory, which is operated by California's Stanford University and engages in experimental and theoretical research in elementary particle physics. He returned to the classroom in 1984 as a physics faculty member at the University of Pennsylvania, a position he held for over two decades.
From 2007 to 2013, Nigel served as the director of Canada's TRIUMF laboratory for particle and nuclear research as well as a professor of physics and astronomy at the University of British Columbia.
Nigel's most recent prestigious appointment was to be named the new director of the U.S. Department of Energy's Fermi National Accelerator Laboratory (Fermilab). Fermilab is America's premier national laboratory for particle physics research and one of the most important scientific research facilities in the world. Nigel's widely recognized expertise as a particle physicist has centred on one of the smallest building blocks in the universe, the bottom quark, for which he was awarded the American Physical Society's W.K.H. Panofsky Prize in 2006. He credits York with jumpstarting his scientific journey.
"I had such a great time at York. The University's science program introduced me to the world of research in physics and that initial exposure was incredibly influential in my career," Nigel says. "York's faculty served as a central driver for my passion for science. Professor Bill Frisken, for example, was my spiritual leader and mentor – he was the one who encouraged me to go into physics in the first place."
Nigel is a living embodiment of York's philosophy toward education and research. Graduates like himself are recognized for critically applying the knowledge they receive at their alma mater and fostering innovation in their field through creativity, collaboration and a unique commitment to social responsibility. Nigel's many achievements and successful career set him apart as an inspiration to generations of York students looking to make a difference in their chosen field.