Many research and teaching activities at York are supported by full technical service facilities, including a machine shop, a student machine shop, a glassblowing shop and two science stores.
For Science Stores inquiries please contact Brad Sheeller at sheeller@yorku.ca or Room 317 Lumbers Building.
If you have questions about the operation of the technical services department in general, please contact Jerry Grech at jgrech@yorku.ca, 437-995-5168, or Room 017 Petrie Science and Engineering Building.
Shops
The technicians have more than 150 years of combined experience. A $65 per hour rate applies to all work done by shop staff. Materials are extra and are not included in hourly rates.
The shops are open Monday to Friday, 8:30 a.m. to 3:30 p.m.
Standard Operating Procedures: Submitting Work to the Technical Shops
The Technical Services Flow Chart below explains the steps required to submit work to the technical shops. Work is requested by submitting one of the Job Request Forms to the shop staff by e-mail or in person.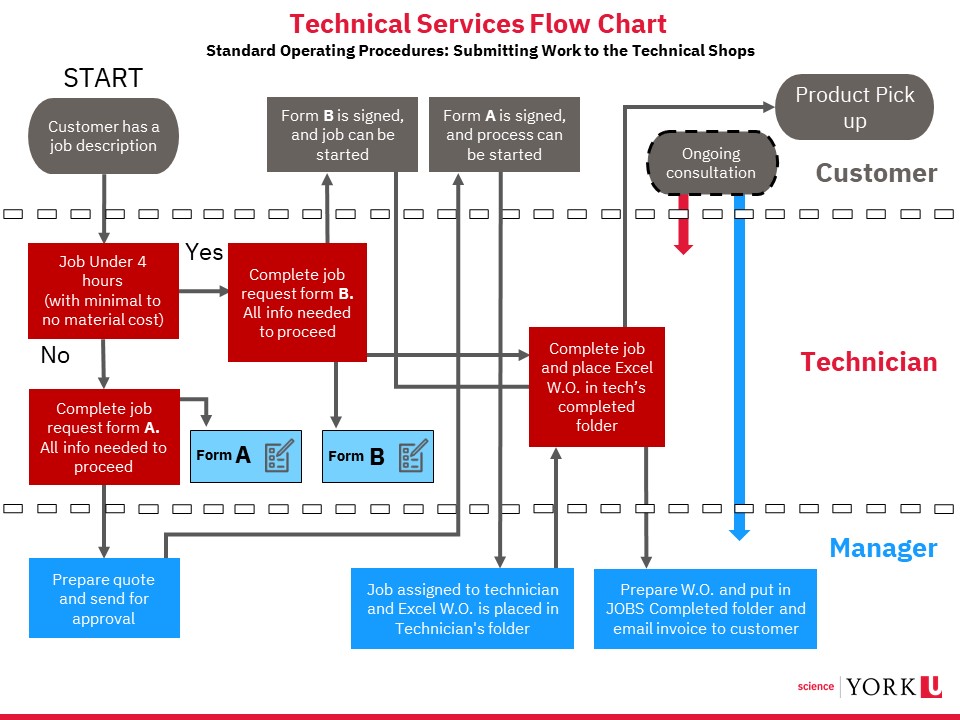 We offer the following services:
Science Stores
The non-profit Science Stores offer a variety of products and service solutions to faculty and graduate and undergraduate students.
Location: 002 Petrie Science and Engineering Building
Hours of Operation: Monday to Friday, 8:30am – 12:00pm and 1:00pm – 4:30pm
Storekeepers: Sherryl Deane and Amal Youssef (scistore@yorku.ca), 002 PSE, ext.55244
Scientific and administrative supplies, including chemicals
Limited shipping and receiving for the Faculty of Science
Storage and processing of hazardous waste for disposal
For inventory carried by the stores that you would like delivered directly to your lab, contact the Stores directly.