Bachelor of Arts (BA)
Explore the rich histories, cultures and languages of the Jewish people.
Fulfill your diverse academic interests while immersing yourself in Jewish Studies. You'll examine Judaism as a religion, but also explore Jewish texts, histories, sociologies, languages and fine arts from biblical times to the present.
You'll benefit from our small group of dedicated award-winning faculty members who are readily available to mentor students.
Jewish Studies graduates have gone on to careers in diplomacy, journalism, history, linguistics, cultural consultancy, interpreting and social programs. You'll enter the workforce with the cross-cultural knowledge and diverse skills to be successful in your chosen career path.
Quick Links
Are you a future student?
OUAC Code: YBO
What you'll learn
---
Examine the history of antisemitism and explore the Jewish experience to understand humanity in its diversity and complexity.
Study relations between Jewish and non-Jewish cultures, including Christianity and Islam.
Develop critical and analytical thinking, writing and research skills that are essential to any career.
Hands-on experiences
---
Choose to study abroad at a university in Israel for a semester abroad.
Explore our cutting-edge research facilities, such as the Israel and Golda Koschitzky Centre for Jewish Studies.
Periodically, the Jewish Teacher Education Program offers a winter-break seminar in Israel called 'Teaching Voices of Israel.'
York is really a great place to learn about Jews and Judaism and the rich, fascinating and really diverse experiences of the Jewish peoples, across the globe, for the last 3,000 years. The program is about these remarkable people, scattered across the world who have survived and thrived living both together and apart from many of the great civilizations of world history.
— David Koffman
Professor and Program Coordinator, Jewish Studies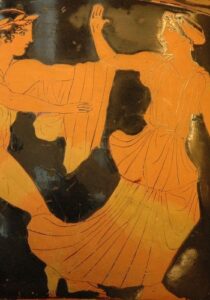 March 21, 2023
The Program in Classical Studies Presents: Lysistrata