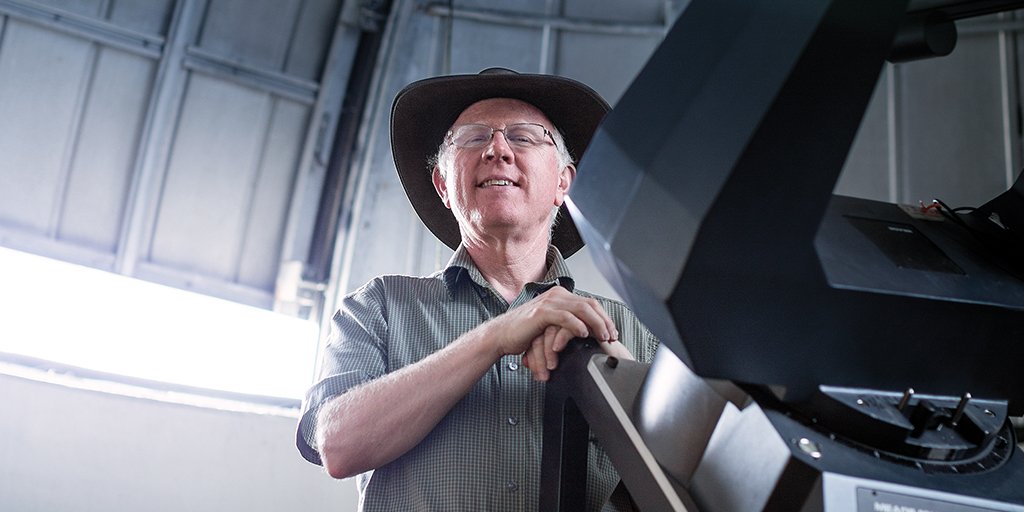 Paul Delaney, Professor of Physics & Astronomy, will step down as Director of the Allan I. Carswell Astronomical Observatory as of June 30, in advance of his retirement at the end of 2021.
"Professor Delaney exemplifies the values we stand for: service excellence, a student-first mindset and dedication to our community both within and beyond York's walls," says Faculty of Science Dean Rui Wang. "It is hard to quantify what his work has meant to our Faculty and to York University. His 'legacy of the stars' will continue to be felt at York for many years to come."
Delaney began his career at York in 1986. Over the past three decades, he became the public face of astronomy at York, teaching undergraduate and graduate students, and helping spread a love for astronomy to the public – including thousands of elementary students.
He played a key role in obtaining a 2017 donation from Emeritus Professor Allan I. Carswell and the Carswell Family Foundation to purchase and install a new 1-meter telescope – an effort led by former Faculty of Science Dean Ray Jayawardhana. It is the largest telescope on a Canadian university campus. The Observatory was renamed the Allan I. Carswell Astronomical Observatory in in recognition of this donation.
"It is only through [Professor Delaney's] efforts in establishing and maintaining the functionality of the telescopes that people such as myself were able to give our astronomy majors hands-on experience with astronomical instrumentation in our courses, starting in year one," says Marshall McCall, former chair of the Department of Physics & Astronomy. "The opportunities for hands-on experience, which range from understanding and using modern instrumentation all the way to the processing and analysis of data, are a major reason why we attract so many astronomy and astrophysics majors."
Paul's leadership furthered the York Observatory's capacity for science outreach to the broader community. Pre-COVID-19, about 5,000 visitors annually attended its public viewings on Wednesday nights. During the pandemic, the Observatory transitioned to a weekly YouTube livestream attended by viewers around the world. These livestreams, held on Wednesday nights, can reach upwards of 15,000 viewers. Many astronomy enthusiasts also tune into the popular "YorkUniverse" radio show hosted by York students and faculty on Monday nights on astronomy.fm online.
In 2018, Delaney was named the inaugural Allan I. Carswell Chair for the Public Understanding of Astronomy, a position he will hold until his retirement. Dr. Sarah Rugheimer, Glasstone Research Fellow and a Hugh Price Fellow at Jesus College Oxford, will take over as the next Carswell Chair on July 1, 2022.
Delaney's community engagement and outreach in this role, and through his extensive efforts as a media commentator, helped raise the profile of the Faculty of Science and York University. He has been a regular commentator on astronomical events on TV, radio, and in print media for many years. In 2020 alone he completed approximately 150 interviews.
Delaney served as head of Bethune College from 1994-2005 – the second-longest-serving Bethune head in the Faculty's history. In this role, he provided leadership and mentoring to the intellectual community of students, faculty, and Fellows at Bethune College. The College is currently affiliated with the Faculty of Science and Lassonde School of Engineering and their related programs.
Delaney is beloved by students for his boundless enthusiasm, ability to communicate complex information in an engaging manner, kindness, and sense of humour.  In the words of a former student, "Some people are born to teach, and Paul hits the bullseye."
The Observatory will host a farewell party for Professor Delaney on June 30 at 7:30pm ET. The livestream can be viewed here.
Elaina Hyde, Assistant Professor in the Department of Physics & Astronomy, will become the new Director of the Allan I. Carswell Observatory, effective July 1, 2021.