On Saturday, May 14, the Faculty of Science hosted an in-person open house at the Life Sciences Building.
It was the first time since 2019 that high school students could visit the campus to learn more about the Faculty of Science. Nearly 200 visitors, including students who received admission offers for 2022-2023 and their family members attended the event.
"We heard from a number of prospects and their families about how grateful and happy they were to come to an in-person event, particularly since very few faculties of science across the country are offering this kind of opportunity at this time," said Rui Wang, dean of the Faculty of Science. "Thank you to our colleagues who organized the event, including Felicia Mercier and Hannah Stanley, and all of the students and professors who participated and helped make the event such a success."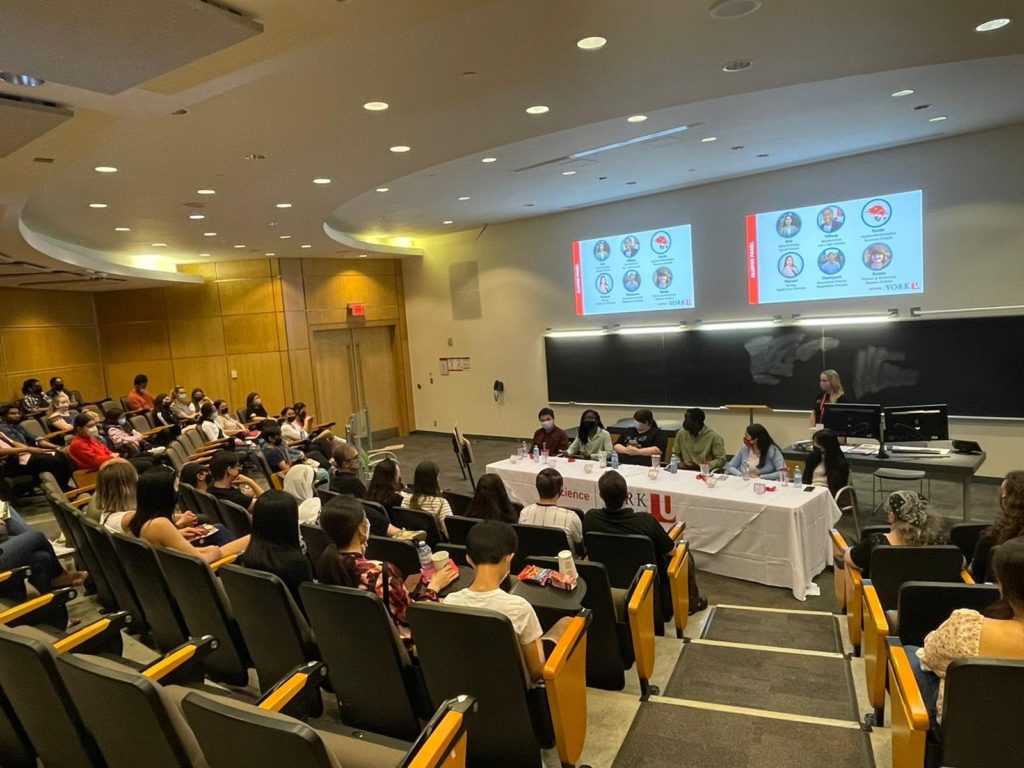 The event featured information sessions and meet-and-greets with professors and current students to learn more about the programs and opportunities available at York Science. The open house also featured current student and alumni panels and a session about Bethune College and the resources available to science students, which was presented by Professor and Head of Bethune Paula Wilson.
Visitors also had the opportunity to go on scheduled tours of the campus.
"The feedback from the high school students and their parents attending the Spring Open House was very positive," said Professor and Department of Biology Chair Robert Tsushima, who participated in the professor meet-and-greet sessions. "For instance, one student mentioned that they found the ability to talk to university students, staff, and professors in person to be very helpful and reduced some of their anxieties."
The Spring Open House was the second in-person science event for prospective students since the onset of the pandemic. In early April 2022, the Faculty hosted a smaller open house event with a 25-person capacity limit. As well, the Faculty has hosted more than 150 online events since September 2021. In late March, the Faculty also resumed its weekly in-person tours (Thursdays and Fridays) and tours on special request for scholarship recipients and athletes.
Further information about tours with York Science is available on the Faculty's website.