A research project led by Professor Woldegebriel Assefa Woldegerima and another co-led by Professor Iain Moyles were among 13 projects selected for funding by the Canadian Institutes of Health Research to advance research on mpox and other zoonotic diseases to improve health outcomes.
Woldegerima (principal investigator) received $480,000 for his project entitled "Modelling, predicting and risk assessment of mpox and other (re)emerging zoonotic threats to inform decision-making and public health actions." Moyles is co-principal investigator, along with Professors Bouchra Nasri (Université de Montréal) and Monica Malta (University of Toronto), on a project entitled "Epidemiological modelling of behavioural impact on Mpox mitigation strategies," which received $412,000.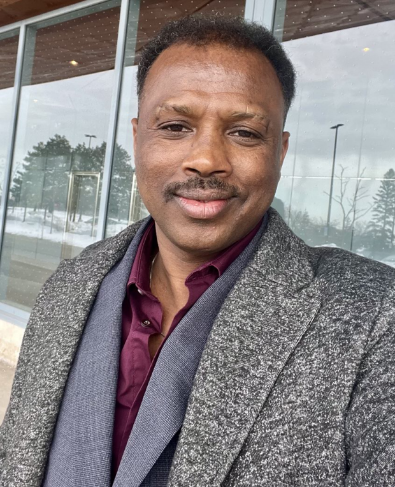 Woldegerima will use epidemiological and geospatial models including mathematical and artificial intelligence-based models to study epidemiology, transmission dynamics, and immunology and intervention strategies to forecast the effectiveness of prevention and control strategies for mpox and other zoonotic diseases in Canada and around the world.
"We are not safe from emerging or re-emerging diseases including animal-to-human spillovers," said Woldegerima. "Our research will provide valuable insights for preventive public health strategies and help governments be better prepared to manage and respond to an epidemic or pandemic threat in the future."
Woldegerima and his research team will conduct risk-map assessments, geospatial analysis and machine learning to identify hotspots for potential outbreaks around the world. In addition, their research will use biobehavioural data and results of a survey by the Centre for Disease Control that involved men who have sex with men - a population considered at higher risk for infection - to examine control measures, risk factors, and the impact mpox has had on sexually transmitted and blood-borne infections. To learn more, read the yFile story about Woldegerima's project.
Moyles and his team will develop an epidemiological model of mpox that includes changes in behaviour. Behaviour plays a critical role in how infectious diseases are spread, as well as the willingness of an individual to seek preventative health measures. Driven by data from scientific literature and near real-time behavioural information from social media on prevailing attitudes towards mpox, the team will look to create a centralised repository of behavioural information in the context of infectious diseases that can provide reliable and updated knowledge for decision-makers and researchers. The project will place a particular emphasis on the gay, bisexual and other men-who-have-sex-with-men (gbMSM) community, which has been disproportionately impacted by the mpox outbreak.
The team will work closely with the gbMSM community, creating a community advisory board that includes experts and members of the gbMSM community in order to develop culturally sensitive and adequate strategies and ensure timely knowledge translation of our results to a broad audience, such as open-access publications and best-practice documentation. To learn more, read the yFile story about Moyles' project.