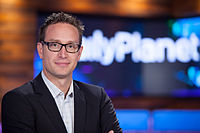 Dan Riskin
Co-host, Daily Planet, Discovery ChannelMSc '00 (Biology)
You could call Dan Riskin (MSc '00) a rock star of zoology. As co-host of Discovery Channel Canada's Daily Planet, the award-winning evolutionary biologist interviews scientists and investigates new developments on a "daily" basis. But early in his academic career, amazingly, science wasn't even on his radar—that is, until a York professor inspired him to enter the wacky and wonderful world of animal biology.
The thought of a future in science never crossed the Edmonton native's mind until his encounter with Just Bats, a book by York professor and noted bat authority M. Brock Fenton. Impressed by Dr. Fenton's passion and expertise, the teenaged Dan contacted the professor asking if they could meet. Later on, after Dan had begun his studies at York, Dr. Fenton invited him to join his "bat lab", and the rest is history. After graduating from the University of Alberta's zoology program, Dan  came to York to earn his master's degree in biology under Dr. Fenton's supervision.
"I was excited to be a grad student at York," Dan says. "It was life-changing. I didn't know where it was going to lead. No one would have guessed what it would lead to in a million years."
Where his York degree did lead him was to Cornell University, where Dan obtained his PhD in zoology, and then to postdoctoral work at Boston University and Brown University. His work on vampire bats attracted the attention of Daily Planet, CBC, The New York Times, and The Washington Post, and Dan began appearing on scientific TV programs like History's Evolve and Animal Planet's Bedbug Apocalypse.
Dan has also been a guest on The Dr. Oz Show, The Tonight Show with Jay Leno, and a favourite with The Late Late Show with Craig Ferguson. For a brief period Dan taught as an assistant professor at City College of the City University of New York, but soon left the position to pursue his passion of sharing science with TV audiences.
Dan hosted Human Nature on Discovery Science and Animal Planet's Monsters Inside Me, before becoming the new face of Daily Planet with co-host Ziya Tong in 2011. Since then, Dan has been educating and delighting his vast audience with in-depth explorations of the latest scientific developments from around the globe. Now a familiar TV personality, Dan has also helped generate record ratings for the show since his arrival.
Dan's entertaining and informative new book, Mother Nature is Trying to Kill You was featured in his most recent interview on the Late Late Show with Craig Ferguson (click here to see the interview).
The world of TV is a far jump from academia, but Dan says it's the same passion for knowledge that links the two. "I've stepped onto a different track, but I'm still driven by curiosity and learning. Only now I'm sharing all this with a great big audience."  Dan also continues to conduct his own research through an adjunct professorship at the University of Toronto (Mississauga).
Dan's now doing what Dr. Fenton did for him at York: inspiring a love of science. "My goal is to show people how much fun science is," he says. It's safe to say that's been accomplished.