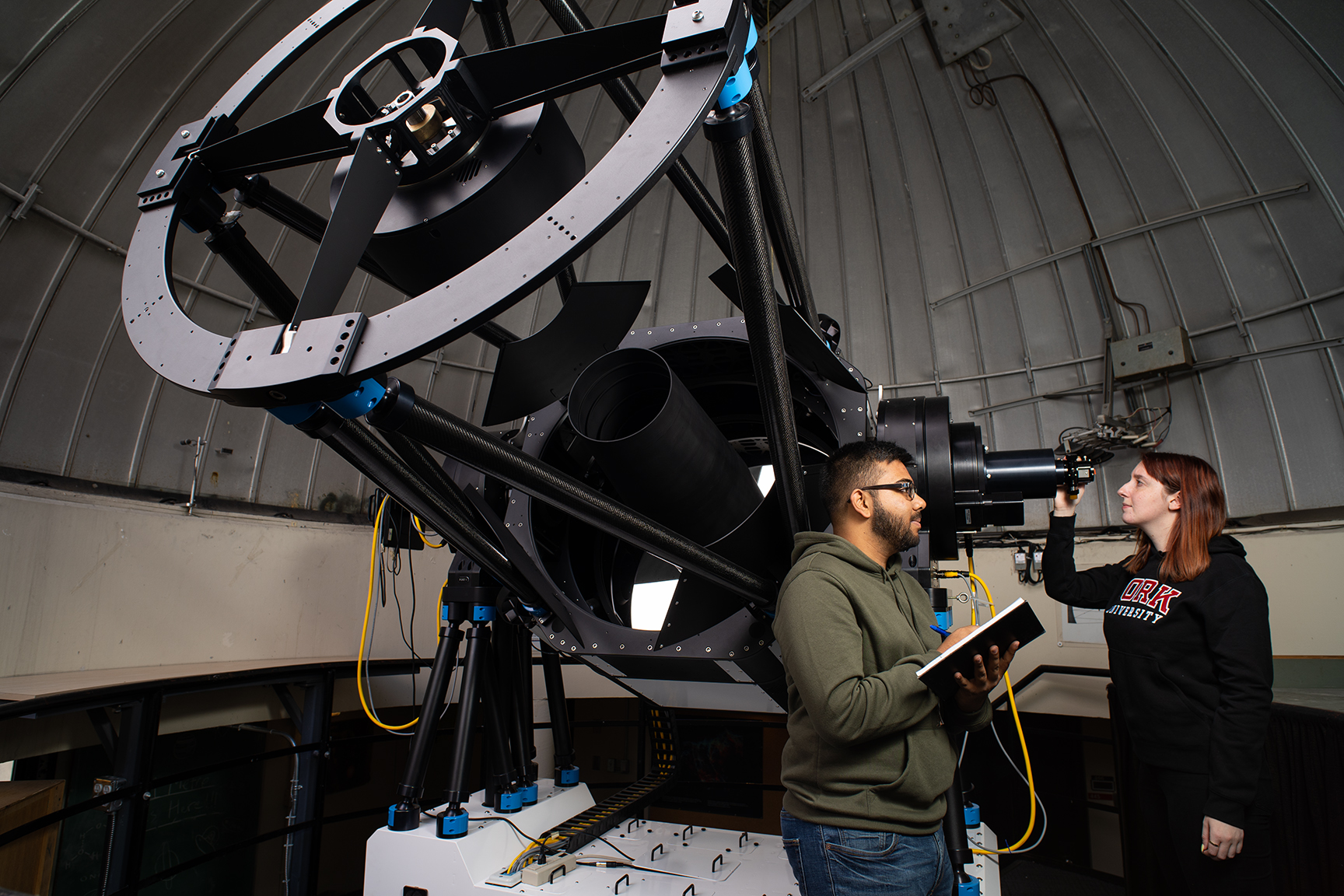 Click here to visit the Physics & Astronomy site.
Includes: Applied Physics, Astronomy and Astrophysics, Physics
Physics is the scientific discipline that deals with matter and energy and their interactions on scales from the sub-nuclear to the entire universe. It seeks to provide the deepest possible understanding of how nature works, with the aim of arriving at a complete model of the natural world. Astronomy focuses on understanding the origins, properties, and functions of the universe and its planets, stars, and galaxies, and everything in between. Physics is an important tool in astronomical research, but astronomical research often leads to insights into physics, too, such as the exciting connections between cosmology and elementary particles.
At York, a broad mix of experimental and theoretical physics and astronomy is taught in a research-intensive environment. Students have the option of pursuing studies in three different streams distinguished by course requirements: Physics, Applied Physics, and Astronomy and Astrophysics. Regardless of the stream, students gain a thorough understanding of fundamental concepts in physics, such as classical mechanics, relativity, modern optics, electromagnetism, quantum mechanics and statistical mechanics. In the Physics stream, students have the most flexibility in choosing the direction of studies in third and fourth year. For example, a student interested in theoretical physics might take relevant courses in applied mathematics. In the Applied Physics stream, additional training is specified in more technological areas such as electronics. Students in the Astronomy and Astrophysics stream add courses in subjects ranging from planets to the universe as a whole, all of which include training in astrophysics.
All streams develop practical skills in mathematics and computing by promoting applications to problems in physics or astronomy. Students gain the ability to think critically and to analyze and solve complex problems, talents which are in high demand in both the private and public sectors. A four to sixteen month internship is available between third and fourth year.
Typical First-Year Courses
Physics
Astronomy (Astronomy and Astrophysics stream)
Chemistry
Calculus
Linear Algebra
Computer Programming
General Education course
Experiential Education
Experiential Education (EE) gives students the opportunity to apply theories learned in the classroom to concrete experiences. These experiences can occur within a course, community, or work/professional setting. The goal of EE is to deepen the learning objectives of a course or program, allowing students to better retain their knowledge of new concepts and be better prepared for life after graduation.
Type
Job
Tasks
Internship
York Regional Police -
Major Collision Investigation Unit:
Research and organize accumulated data. Develop physics formulas within field reconstruction, compare existing data to current formulas, assist with administrative tasks.
How to Apply
Complete an Online Application Form.
Pay the application fee.
Submit supporting documents through the York University online portal, MyFile.

Within four business days of application, you will receive a confirmation email with your nine-digit student reference number, which will allow you to access your MyFile account and upload your documents.
It is important to check your MyFile regularly for any documents you are required to submit and updates to the status of your application.
More information about supporting documents, document processing times and decision processing times is available on the I've Applied page.
Important Note: Deadlines for each entry period (Fall, Winter & Summer) can be found on the York University Future Students Website.
Careers
A degree from the Faculty of Science opens the door to many different pathways and opportunities. York Science offers an ideal learning environment to achieve your highest potential. Our programs are known for academic excellence, with professors who are committed to your success.
Our Experiential Education Coordinator provides career support services to students looking to engage in experiential learning, including co-op and internship workshops, resume help, interview prep, and much more.
The Career Center at York offers free support and resources to students such as career development workshops, one-on-one appointments, networking events, and job boards.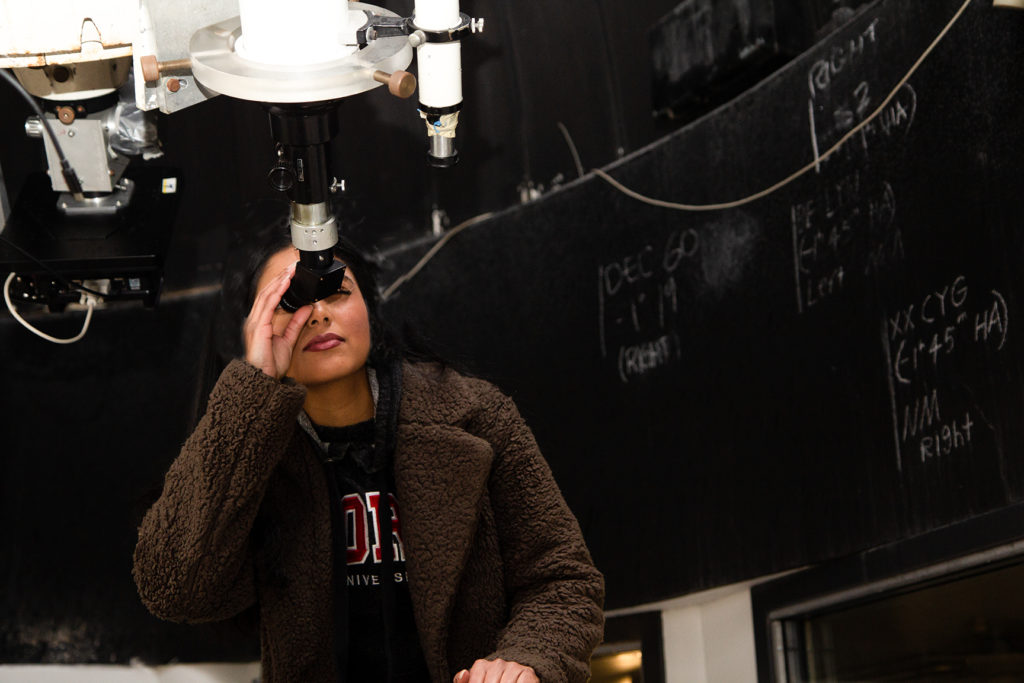 Astronomy Major:
Research or research support at government laboratories, National Research Council Observatories
Applied Computing
Mathematical and Computer Modelling
Digital Imaging (e.g., in remote sensing, oceanography, geophysics, biophysics, medicine)
Virtual Reality and Data Visualization
Medical Physics – hospitals, biotechnology industries
Finance or Consulting (applied statistical analysis)
Postgraduate Studies/Academic Career
Education – elementary, high school, college, university
Physics Major:
Research or research support at government laboratories
Industrial Physicist – telecommunications (fibre optics), biotech industries, opto-electronics (lasers), aerospace
Mathematical and Computer Modelling
Virtual Reality and Data Visualization
Advanced Engineering fields (e.g., biomedical, aerospace, nanotechnology)
Medical Physics – hospitals, biotechnology industries
Finance or Consulting (applied statistical analysis)
Postgraduate Studies/Academic Career
Education – elementary, high school, college, university