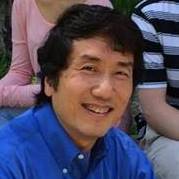 Jonathan H. Jiang
Research Scientist at NASA's Jet Propulsion LaboratoryMSc '91 (Physics), PhD '96 (Earth & Space Science)
From a young age, Dr. Jonathan Jiang (MSc '91, PhD '96) envisioned himself engaged in space exploration in some shape or form, but he never imagined he would be working at the frontier of space flight.  Today Jonathan is a key research scientist at NASA's Jet Propulsion Laboratory (JPL) at the California Institute of Technology, and is a recognized international leader in Earth and Space Science.
Before breaking through the stratosphere, Jonathan's successful career was launched from York University's Physics & Astronomy Department – working with esteemed professors including Nancy Evans, John Caldwell and the late John 'Jack' McConnell. After earning his Master's Degree in Astrophysics at York in 1991, Jonathan decided to pursue his PhD in Atmospheric Physics at York's Earth & Space Science Department, and graduated with his doctorate in 1996.
During his time at York, Jonathan became very involved in York's Earth and Space Science community. The main focus of his M.Sc. research was to use data from the IUE (International Ultra-Violet Explorer) satellite to study supergiant and Cepheid variable stars, which was a key area of interest. He then proceeded to forge relationships with other York scientists at the Centre for Research in Earth & Space Sciences, where he learned to run global climate models and use satellite data for his research.
"York inspired me. Looking back, there were many exciting things," Jonathan says, "York University was where I learned most of my skills in satellite observation and climate modeling, which are what I'm doing at NASA JPL today, and every day, and it was York that inspired me when I was a graduate student and continues to inspire me today."
In 2001, Dr. Jiang's passion for space exploration led him to NASA's Jet Propulsion Laboratory, California Institute of Technology, in Pasadena, California – a key location involved in the construction and operation of planetary robotic spacecraft and Earth observation satellite, which is also in charge of NASA's Deep Space Network. He became a principal research scientist involved in various projects dealing with global climate model simulation, analysis, and evaluation using satellite observations.
Today, Jonathan serves as the supervisor for JPL's Aerosol and Cloud research group overseeing a team of 30. One of his current projects analyzes how Asian pollution is changing weather and climate around the globe. He has been an author or co-author on over 100 peer-reviewed scientific publications and book chapters, and has been awarded the highly prestigious NASA Exceptional Achievement Medal – twice (in 2010 and then again in 2013) – for his outstanding research leadership using NASA satellite data. He is also an editor of Earth and Space Science - a leading international journal of American Geophysical Union.
Jonathan credits York University with providing the right conditions for students to fulfil their potential. His many achievements in scientific leadership are an inspiration to current and future generations of York students.
"York is a well-regarded Canadian university that has shown strength in producing research in the field of Earth and Space Science," Jonathan says.  "It offers unique multidisciplinary programs, and is a leader in the study of celestial bodies and other subjects related to the study of the universe. York has high quality labs and computing facilities for climate research, air quality modeling and forecasting. All of these things, and the great scientists I had the opportunity to work alongside, helped me achieve success and accomplish my dreams."