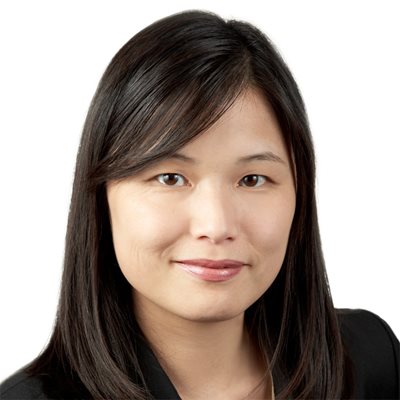 Selena Kim
Partner, Lawyer and Patent Agent, Gowling WLGMSc '98 (Molecular Biology)
When Selena Kim (MSc '98) was studying molecular biology at York University, she was immersed in cell signalling research. A couple of decades later, she is now a partner in Gowling WLG's Toronto office, practising in the areas of patents and intellectual property litigation.
As a graduate student in the lab of André Bédard, Selena conducted laboratory research using chicken embryo fibroblasts as a model, and studying transcriptional regulation and cell signalling. This work and study provided Selena with a sound technical background in molecular biology. She still relies on this technical background today in her work as an intellectual property lawyer.
"The subject matter that I studied at York, and that I still use today, is not something that you can realistically learn on your own as a practicing lawyer", says Selena.
Selena and her fellow York colleagues were close, spending a lot of time together in the lab in the Farquharson building - and at the local Tim Horton's in York Lanes - discussing their research. She still keeps in touch with many of them, and they chose different paths to employ their science backgrounds. Selena's path was law.
Selena has been certified by the Law Society of Upper Canada as a specialist in intellectual property (patent, trademark, and copyright), and is the first woman to have achieved this designation for patents in the Law Society's history. Selena's litigation experience includes work before all levels of court in Canada, involving patents for complex mechanical and chemical inventions. Most recently, she achieved a significant win and a permanent injunction for a patentee at trial involving a patented manufacturing procedure for polymer pipes.
Selena is appreciative of the mentorship she received along the way. She is grateful to Professor André Bédard, currently of McMaster University and other professors at York who made her time there fulfilling and special, including Professor Ronald Pearlman and Professor Andrew White.
In addition to her work as an intellectual property lawyer, Selena is passionate about promoting women in leadership in the workplace. She participates in multiple professional development groups, and is a co-chair of the women's group at her firm. Selena also serves the community, most recently as a board member with a children's charity, Autism in Mind.
Asked what advice she would give students today, Selena encourages them to ask many questions and to be flexible. Students should "be open to trying new things to see what they like, and they should reach out and talk to other professionals in their fields of interest. People are always willing to share their experiences. Don't be shy!"