Nicholas Bragagnolo, a PhD student in the Department of Chemistry's Audette Lab at York University, won the 2023 Etter Student Lecturer Award from the American Crystallographic Association (ACA), which represents those working in the branch of science concerned with the structure and properties of crystals.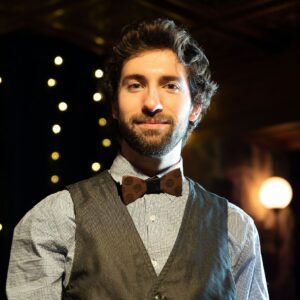 The ACA houses 14 scientific interest groups (SIG), each representing a specific crystallographic discipline or area of interest. Among them is the Canadian Division SIG, which had the opportunity to – along with all other groups – invite one student to present a lecture at an ACA conference and receive an award.
Bragagnolo was selected and – after receiving transportation funding from the ACA Travel Award and the Canadian National Committee for Crystallography's Larry Calvert Award – attended an ACA meeting in Baltimore in July.
There, he presented a 20-minute lecture titled "Solution characterization of the dynamic conjugative entry exclusion protein TraG," as part of a session about the future of light sources, and won the Etter Student Lecturer Award. He also received honourable mentions for a three-minute thesis presentation.
The event, and the award, are part of the ACA's initiative to provide young students and scientists with opportunities to demonstrate their research achievements and work.
"Overall it was a very successful conference and I'm grateful to my lab members Arnold Apostol and Christina Rodriguez and my supervisor Gerald Audette for their support," Bragagnolo wrote in a LinkedIn post following the event. "I made many valuable connections as well as new friends and gained a lot of insight into new techniques to help complete my thesis."
Earlier this year, Bragagnolo was recognized by York University's Association for Graduate Students in the Biological Sciences (AGSBS) with the People's Choice Student Talk Award (Session 2) during the AGSBS 49th Annual Biology Symposium. Bragagnoloa presented a talk titled "Structural Studies of the Conjugative Entry Exclusion Protein TraG."
In 2021, he was awarded a York Graduate Scholarship by the Faculty of Science.