Dear LA&PS community,
Over the last weeks, the Dean's Office has met with students, staff, and faculty members regarding the actions that we need to take in order to address anti-Black racism in our Faculty and our community. We are so grateful to you for your comments, criticisms, and engagement. Thank you. We know we have to keep talking, but also that talking is not enough. We must take concrete action. We also understand that many people in our Faculty community experience racism and discrimination. However, this is a time to centre anti-Blackness as the register for white supremacy. Combatting anti-Black racism is a powerful step towards anti-racism and equity for all.
As the Province of Ontario's Anti-Black Racism Strategy affirms:
The impact and consequences of our history have created systemic barriers that prevent people from fully participating in all parts of society. This is especially true for Black Ontarians of all backgrounds. Whether they're recent immigrants or descendants of people who were enslaved, Black Ontarians live a shared present-day experience of anti-Black racism.
The stigma and stereotypes Black Ontarians and communities face have impacted public policies, decision-making and services. As a result, in nearly every measure of opportunity, security and fairness in our society, anti-Black racism is felt.
The actions we outline here are a beginning. This strategy has an end-date, not because the fight against anti-Black racism in our Faculty will conclude a year from now, but because the Dean's Office will report back to our Faculty community in the summer of 2021. We will report on the progress that has been made and the next steps that will still need to be taken. This is to hold us accountable.
Special Advisor on LA&PS' Anti-Black Racism Strategy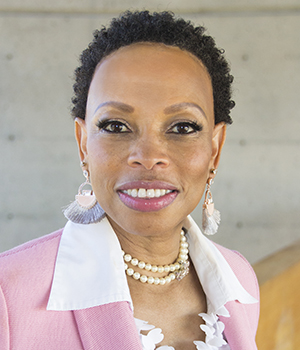 Prof. Andrea Davis, who has had a long career of teaching, research and community engagement in Black Diasporic Studies, and is completing a five-year term as Chair of the Department of Humanities, will serve as Special Advisor on LA&PS' Anti-Black Racism Strategy from September 1, 2020 until August 31, 2021. Prof. Davis brings a wealth of knowledge and insight to this advisory role. Her visionary work in the foundation of the Black Canadian Studies Certificate, and her cutting edge scholarship, including her new book, Horizon, Sea, Sound: A Post/Diaspora Critique of the Nation, forthcoming from Northwestern University Press, are just some of her accomplishments.
As Special Advisor, Prof. Davis will:
Report to the Dean and provide guidance and input on questions related to race and equity, and anti-Black racism specifically
Establish and Chair an Advisory Committee made up of students, faculty, and staff to identify priorities and develop recommendations to be conveyed to the Dean
Advise the Dean in the hiring of Black faculty and the hiring and promotion of Black staff
Liaise with the Special Advisor to the President
Work with the Associate Dean, Global & Community Engagement to disburse $100,000 of funding for initiatives identified by faculty, students and staff
Work with the Associate Dean, Global & Community Engagement to deliver the Explore YU summer program for Grade 10 and 11 students in Summer 2021
Work with the Associate Dean, Graduate Studies & Research to disburse $50,000 of research funding for Black contract faculty and Black YUFA members in a CLA, Assistant, or Associate position
Advise the Dean's Office through the Associate Dean, Programs on the development of a major/minor degree program in Black Studies
Advise on a process for a permanent Advisor position on race and equity in LA&PS
In addition to supporting the Special Advisor on the above, the Dean's Office will:
Facilitate discussions and action on anti-Black racism and community engagement and action for staff, students, and faculty
Work with collegial committees on anti-Black racism curriculum in light of student petitions through CCPS including looking at learning outcomes
Work with Faculty Council to strike a permanent committee on equity, diversity, and inclusion
Establish a confidential communication point for staff, students, and faculty to share their experiences and suggestions
Establish a website collecting resources on anti-Black racism
Institute unconscious bias training for all members of any hiring committee in the Dean's Office
Develop equity targets for the hiring of CPM positions
Develop mentoring and career advancement pathways for Black staff colleagues
Expand the Explore YU summer program for Grade 10 and 11 students (suspended for Summer 2020 due to COVID-19) to ensure up to 50 fully subsidized spaces for Black youth participants
Establish five new DARE Awards targeted for Black undergraduate student researchers
Establish five to ten internships focused on equity and social justice
Establish $50,000 research fund for Black CUPE colleagues and Black YUFA colleagues at the CLA, Assistant, or Associate rank
Establish $100,000 community engagement fund for anti-Black racism initiatives proposed by staff, students, or faculty
In September 2021, the Dean's Office will submit a report to you, members of the LA&PS community, to outline our progress on each of these actions and set out our commitments for next steps in the years ahead. We know that there is a tremendous amount of work that needs to be done. We thank you for collaborating with us in undoing the intergenerational impacts of slavery and systemic racism. We do not accept the status quo and we will work with you towards a future for our Faculty where commitment to equity and diversity will be the locus of our strength.
Sincerely,
Dean J.J. McMurtry
Faculty of Liberal Arts & Professional Studies