Launched in 2014, the Dean's Awards for Excellence in Teaching celebrates faculty members who have made outstanding contributions to teaching and learning in our undergraduate programs. These educators integrate innovative techniques and actively engage students in the learning process.
The Process
Students nominate those educators who have made an impact on them. Once the list of nominations is finalized, the nomination packages (including, among many other things, letters of support from students) are reviewed by the adjudicating committee, which includes an undergrad and a graduate teaching assistant.
Awards are given in three categories: full-time tenured faculty, contract faculty and teaching assistants.
---
2019-2020 Teaching Awards
Congratulations to the winners of the 2019 Dean's Awards for Excellence in Teaching:
Department of Equity Studies PhD candidate and teaching assistant Melanie Fallis is being recognized for her commitment to students, her deep connection to social justice issues and passion for teaching. One of her students aptly describes her as "leaving students empowered and valued."
Her nomination letter also describes Ms. Fallis as "a true pedagogical innovator," and provides ample evidence of Ms. Fallis being an excellent teacher, who is strongly committed to provide a conducive learning environment for her students leading to their success.
Professor Carolyn Steele, from the Humanities department, is being recognized in the category of Contract/Adjunct/CLA for her commitment to innovation and passion for pedagogy. Steele's has been a contributor to York's Capstone Network since its inception. She has been awarded several grants to support her pedagogy including Academic Innovation Fund Category 1 Project grant and an Experiential Education development grant.
She has been described as a teacher who cares about her students, while delivering a one-of-a-kind learning experience. Her nomination letter states that students and staff alike commended her ability to connect with students within and outside of the classroom, and laude her passion to inspire others.
Professor Claudio Colaguori with the Department of Equity Studies is being recognized for his contributions in the category of Tenured/Tenure Stream. Professor Colaguori has a long career of continuous innovation and commitment to student success. Not only does he focus on each student's needs as an individual, taking time to help them prepare for life beyond university, he enables students to realize their true potential.
He is described as a leader, innovator, and pioneer in the study of Human Rights and Equity. Professor Colaguori's support letters speak of a professor who exhibits strong leadership in the field of curricular development who does not shy away from sharing the best practices with colleagues to promote excellent teaching and learning.
Alexandru Manafu received an Honorable Mention – for his effective engagement with students, his efforts to grow as an educator and dedication to student success. Manafu stands out for his notable contributions to curricular development by designing two new courses. His active participation in Teaching Commons and service on department and Faculty level committees demonstrates his passion for community involvement.
Past Award Winners
Congratulations to the winners of the 2018-2019 Dean's Awards for Excellence in Teaching:
PhD candidate Ameera Ali is a York University is committed to making her classes approachable and providing diverse learning opportunities. Holding a master of arts degree in early childhood studies, Ali is a natural educator. In fact, this year's teaching award is not her first – just two years ago, she received the John O'Neill Award for Teaching Excellence. "I am so grateful to be a part of the diverse teaching community at York," said Ali. "As much as my students may learn from me, I too continuously learn from them."
Patrick Phillips, from the Department of Philosophy was honoured for excellence in the Contract Faculty category. Incorporating humour and real-life examples in the classroom, Phillips facilitates learning by connecting with his students. He also makes it his mission to support students in demographics often overlooked in post-secondary settings. "A university education ought to be a stimulant, not a narcotic," Phillips said. "I am gratified to be selected to receive the Dean's Award among a group of equally gifted teachers who possess the sagacity to enact this pedagogical principle."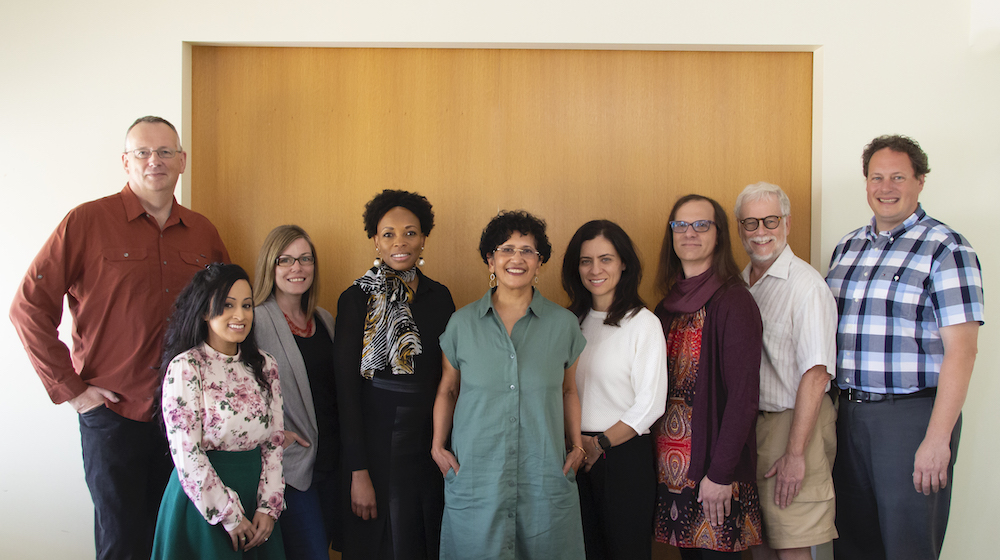 Professor Natalie Neill was recognized in the Contract Faculty category with an an honourable mention. Neill's strong support for students sets positive examples for others. She makes herself a resource for students, consistently hosts virtual office hours, always offers productive feedback, and consistently goes out of her way to accommodate group and individual needs. "I am delighted to be recognized with an honourable mention for my teaching," Neill said. "Of course, teaching is its own reward, but receiving news of this honour was a wonderful way to begin the new year."
Professor Chris Robinson received the teaching award in the Tenured/Tenure Stream category at the event. Throughout Robinson's long career, his commitment to innovation and experiential learning has helped students prepare for employment in their respective fields. From leading high-impact lectures to assisting in the creation of the only university program in Canada dedicated to financial planning, he's inspired students and staff alike. "I have so much fun teaching that I don't need this award," Robinson said. "I get a prize every time I meet a class or mark their assignments."
Professor Chris Chapman was presented with an award in the Emerging Research category for exceptional work in expanding the field of disability research. Authoring various pieces pertaining to disability and mad studies, Chapman's research reaches beyond York University and Canada, shedding light on these social issues for an international readership. Their research tackles these topics head on, assessing the interlocking oppression that exists between them and informing countless groups in and outside of academia. Chapman has also co-authored a play, published five journal articles and co-authored a book.
One of this year's recipients of the LA&PS Award in the Established Researcher category is Professor Nirupama Agrawal of the School of Administrative Studies. "Research is essential for comprehension, improvement and advancement," she said. A founding member of the Disaster & Emergency Management program and an accomplished researcher in her field, Professor Agrawal sets the example for others to follow. Her work includes two books, articles in 18 peer-reviewed journals and many other pieces co-published with graduate students – all showcasing her familiarity with disaster and risk management from a global perspective.
Professor Shobna Nijhawan also received an award in the Established Researcher category. Lauded for her work focusing on South Asian literatures and languages, as well as gender, feminist and women's studies, Nijhawan's research offers quality, quantity, scope and breadth. Her writing credits include two monographs and several book chapters on record, each illustrating her excellent talents as a leading international scholar.
Professor Carmela Murdocca received the LA&PS Award for Distinction in Social Justice Research. Focusing on the sociology of law, race and gender, Murdocca's research aims to shed light on various injustices. Her in-depth analysis of criminalization, racial violence, and social exclusion experienced by racialized and Indigenous people in Canada is thought-provoking and informative. For this reason, she's been described as "the quintessential engaged scholar." Murdocca been recognized as a Canada-U.S. Fulbright Scholar, as well as a Visiting Fellow at the Center for the Study of Law & Culture at Columbia University.
Professor Andrea Davis received the Ann Shteir Prize for excellence in program development and curricular leadership. Earning her this esteemed honour, the Black Canadian Studies Certificate program provides students with an examination of the historical expressive productions of people of African descent. Thanks to her ongoing efforts, courses in the program take innovative humanities and fine arts approaches in the way they are taught – exploring music, literature and other cultural contributions. "It was an incredible honour to receive the inaugural Ann Shteir Prize in recognition of my work and students' advocacy in centring Black Canadian studies into the curriculum," Davis said. "York is uniquely positioned to take leadership in transforming the curriculum to address the needs of our diverse students. I'm glad to have played a small role in that transformation."
Congratulations to the winners of the 2017-2018 Dean's Awards for Excellence in Teaching:
Professor Carolyn Podruchny is the recipient of the Award for Excellence in Teaching in the Tenured Faculty category. A highly regarded educator in the Department of History, she has taught in the fields of Canadian history, colonialism and Indigenous history. Innovative and creative in course design, she has instructed and prepared courses at every level, with a commitment to learning that "encourages broad, critical and deep thinking about both past and present."
Podruchny is an advocate for her students and a tireless supporter and mentor. At the time of her nomination, she had successfully completed the supervision of two postdoctoral Fellows, six PhD candidates and 13 master's students, with an extraordinary record of mentoring through assistantships, having 38 students benefit from working with her as research assistants at the undergraduate and graduate levels.She continues to be known for her commitment to Indigenous knowledge and scholarship, her deep respect for Indigenous traditions and scholars, and how she encourages students to bring something of their own lives and persons to the academic work.
Professor Chris Robinson is a prominent academic in the School of Administrative Studies, recognized with an honourable mention for the Award for Excellence in Teaching in the Tenured Faculty category. Through his dedication to innovation over his career at York University, Robinson has continually inspired students and faculty alike. He stands out for his long-standing commitment to ensuring that students receive quality courses, instruction and opportunities for real-world experience.
In the classroom, Robinson is known for his dynamic teaching style, catering to different learning styles and abilities to ensure student success. He has also distinguished himself as an exemplary educator in his capacity as a mentor and by encouraging interaction with students outside of the lecture hall.
Professor Dagmara Woronko is recognized in the Contract Faculty category for excellence in teaching. She has contributed greatly to both the Health & Society program in the Department of Social Science and the Department of Communication Studies.
Her colleagues call her a "born educator" and her students speak of her highly effective teaching strategies, her "style of presentation that engages their entire attention," her ability to "give assignments that deliver course content in a stimulating fashion" and her skill in providing "excellent feedback and exceptional individual support."
PhD candidate Patrice Allen, in the Department of History, is recognized for teaching excellence in the Teaching Assistant category. Her nominator writes about her "commitment to transforming the classroom into a site of social justice and change while maintaining the highest academic standards." He refers to her "dedication to positive and engaged learning" and names her as one of York's "most inspirational teaching assistants."
Allen works hard to ensure that all her students have an equal place in her classroom, where she actively dismantles power dynamics and structural inequalities. She is known for her kindness and exceeding expectations in her mission to empower students.
Congratulations to the winners of the 2016-2017 Dean's Awards for Excellence in Teaching:
Professor Sean Kheraj from the Department of History received the Award for Excellence in Teaching in the Tenured Faculty category. A highly-respected professor who teaches Canadian, environmental and digital histories, Kheraj brings innovative and technologically savvy strategies to the classroom.
"Universities are exciting because they are one of the very few institutions in Canadian society devoted to the exploration of ideas and the production of knowledge," said Kheraj. "Students should walk away with both new knowledge and new skills."
Professor Gordana Colby from the Department of Economics received the teaching excellence award in the Contract Faculty category. A passionate and committed educator, she champions new and fruitful ways to foster student success and improve the quality of the first-year experience.
"I am most passionate about inspiring each student to engage and connect with the material," said Colby. "In order to do this, it is really important that the classroom, be it a physical room or a virtual space, is an inclusive, comfortable, respectful and engaging place to be."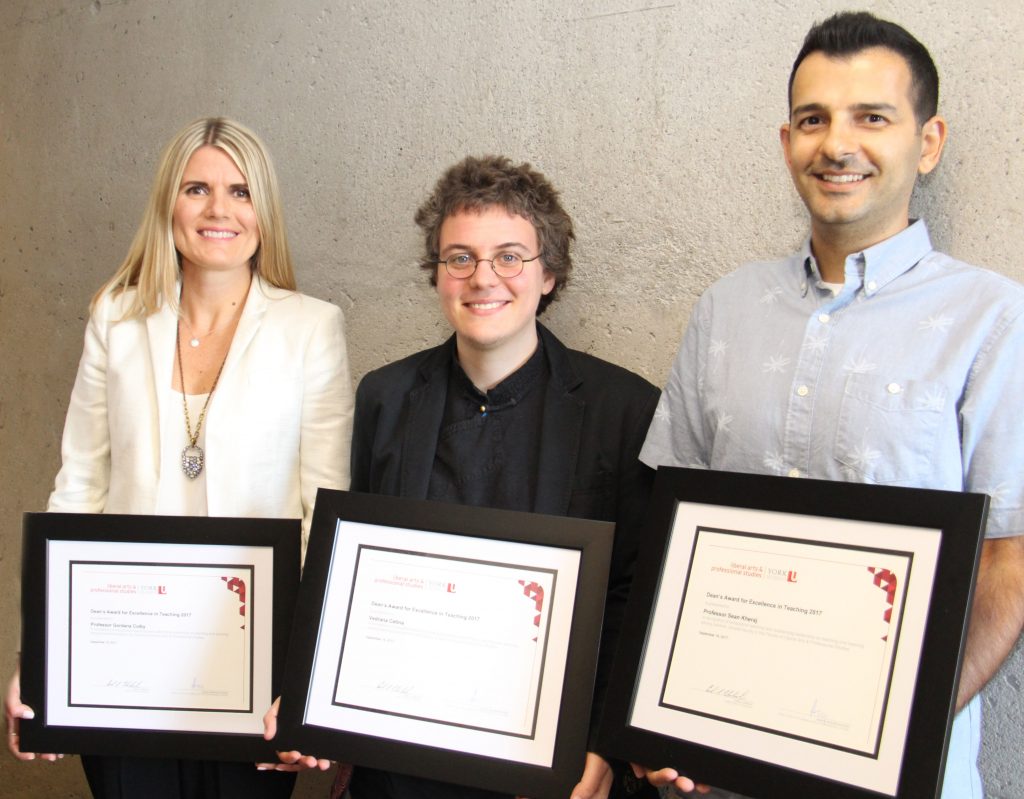 PhD student Vedrana Cetina, in the Department of Philosophy, was recognized in the Teaching Assistant category. Whether she's teaching in a large lecture hall or speaking one-on-one, she is known for motivating students and making philosophy both compelling and comprehensible.
"What I enjoy most is to foster student's growth," said Cetina. "I see teaching as a unique opportunity not only to explore different philosophical theories, but also to witness and attend to my student's growth both as critical thinkers and human beings."
Professor Sylwia Chrostowska from the Department of Humanities received the Award for Distinction in Research in the Emerging Researcher Category. She is widely recognized by her peers for successfully straddling the divide between academic writing and literature.
"Scholarly research can be written up as a standard article or book, but it can also feed into more creative forms of writing, as in my case," said Chrostowska. "Creative or literary writing, which privileges the imagination but isn't simply 'fiction', has led me to insights I might not have had otherwise."
Professor Alice MacLachlan from the Department of Philosophy was also recognized in the Emerging Researcher Category. Described by her peers as a brilliant research leader, she is also well known as a thought leader in ethics, feminist philosophy and the role of apology in establishing trust.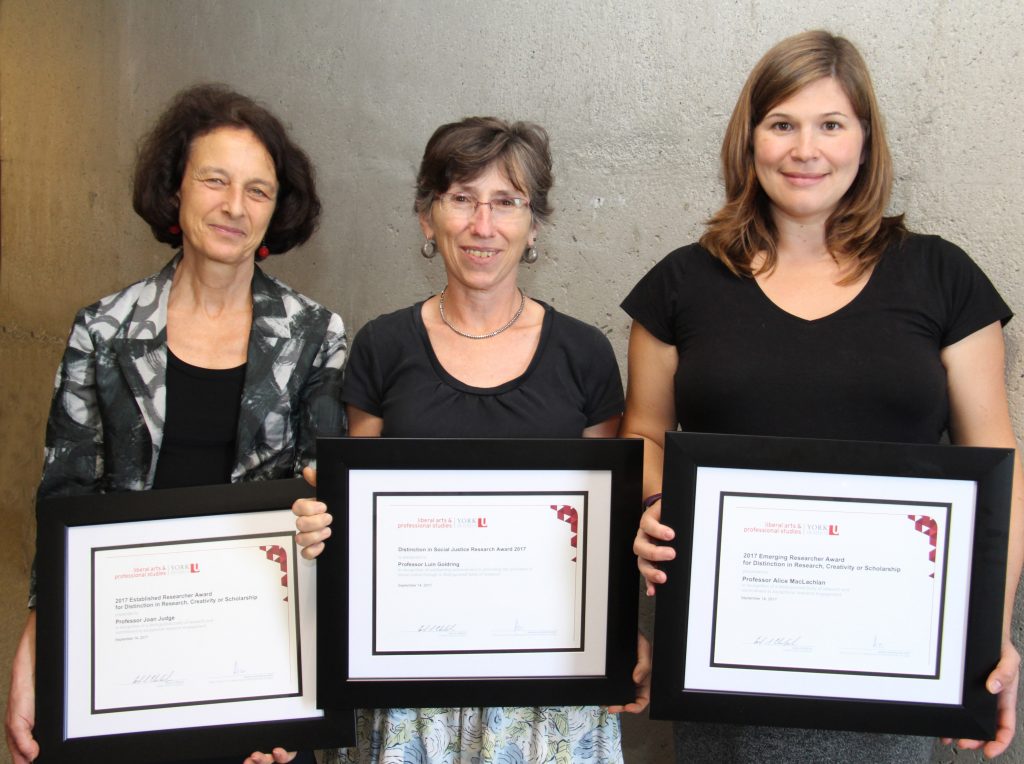 "I'm most passionate about the relationship between philosophy and practices of social change, specifically local and broader efforts to confront the effects of wrongdoing and to reconcile after longstanding conflict and injustice," said MacLachlan. "I've thought about the role that practices of forgiveness and apologies play in these efforts; my current research focuses on the role of civility."
Professor Joan Judge from the Department of History received the Award for Distinction in Research in the Established Researcher category. One of the most respected scholars of modern Chinese history and culture, she has influenced an entire generation of historians.
"The world is becoming smaller and the presence of China looms ever larger in so many spheres of our lives: Chinese medicine is becoming mainstream, for example, and China's economic power is shaping global commercial and political relations," said Judge. "In order to understand China today, it's critical to understand not just the broad outlines of this history and culture, but the ways history and culture are being used, understood and politicized in China today."
Professor Hassan Qudrat-Ullah from the School of Administrative Studies was honoured in the Established Researcher category. A highly prolific researcher in the field of decision sciences and system dynamics approach, he is skilled at mobilizing resources to establish his own innovative research niche.
"What I enjoy most about my research is the privilege it grants me to pursue ideas, create new knowledge, convince stakeholders, and see the implementation of my ideas about sustainable development through better decision making in the use of resources, especially energy," said Qudrat-Ullah. "Research, by all means is our future; it is the most promising and time-tested way of pursuit of new knowledge, often for the sake of finding solutions for issues we face on a daily basis."
Professor Luin Goldring, in the Department of Sociology, was the winner of the biennial LA&PS Award in Social Justice Research. Known for her ground-breaking work on the experiences of migrant workers in Canada, she exemplifies the spirit of social justice.
"Over the last 15 to 20 years there has been a dramatic change in Canadian policies around immigration, refugees and citizenship. After about 35 years of being a country with most newcomers arriving as permanent residents, Canada began to see a dramatic increase in temporary migration," said Goldring. "Our work on non-citizen precarious immigration and legal status trajectories offers empirical evidence about an understudied population and a process not captured in official statistics. Our work contributes qualitative and quantitative data on the systemic and long-term challenges faced by people with precarious status. Our work also supports efforts to expand access to education for precarious status youth living in Canada."
Congratulations to the winners of the 2015-2016 Dean's Awards for Excellence in Teaching:
Professor Tania Das Gupta from the Department of Equity Studies received the Dean's Award for Excellence in Teaching – Full-time Tenured Faculty. Her teaching techniques are unsurpassed. A teacher, scholar, community activist and social justice trailblazer, she is known for challenging the norm, setting a superior standard of academic curiosity and liberating the student imagination.
"I hope students will take away from my classes a critical awareness and knowledge of the world around them, a passion for social justice, the belief that social change is possible, empowerment to follow their dreams and a set of skills and resources with which to follow them," Das Gupta said.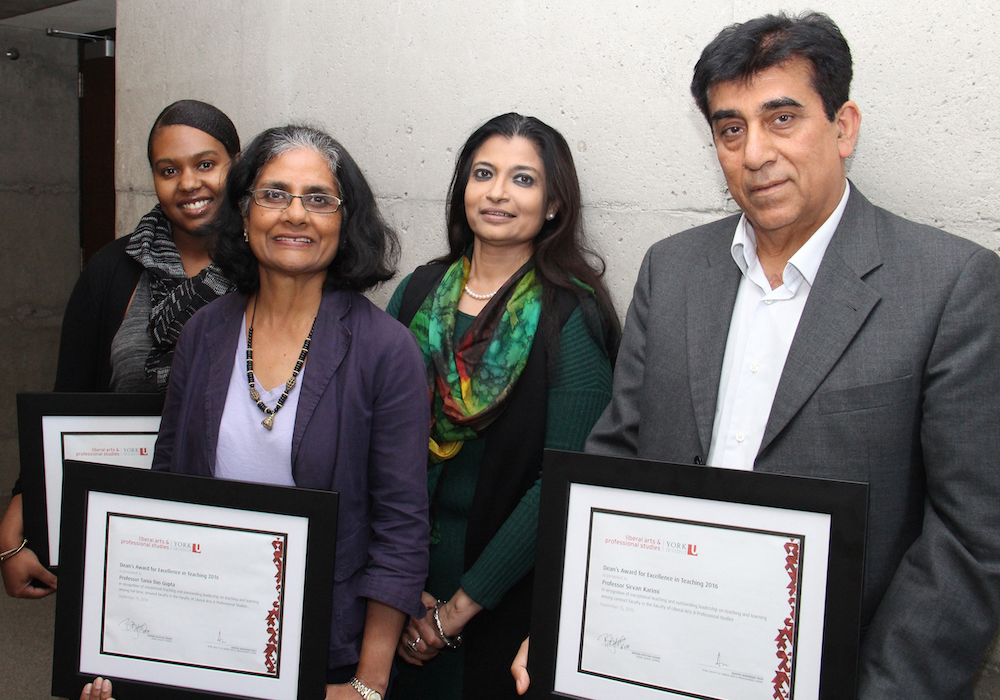 Professor Sirvan Karimi, from the School of Public Policy and Administration received the teaching award in the Contract Faculty category. A master of the material he teaches, he is known for going beyond expectations to support students and making innovative contributions to the curriculum. As an educator and a mentor, he is helping to shape a generation of critical-thinking students who will one day influence policies and governance.
"Mentoring should be envisaged by both mentor and mentee as a golden opportunity to advance and enrich academic goals and professional development," Karimi said.
PhD candidate Rhonda George, from the Department of Sociology, won in the Teaching Assistant category. She is passionate, committed and innovative in facilitating student success, growth and development. A teaching assistant of the highest calibre, she bridges the gap between theory, history and the contemporary and creates an accessible, equitable and inclusive classroom where students can engage in learning.
"My methods are intended to challenge and engage learners, encourage critical thinking skills, creativity and originality and support the academic, intellectual and personal growth and development of my students," says George. "I want my students to develop an understanding that learning is a life-long process and that the things that we are learning have real-life applications."
Congratulations to the winners of the 2014-2015 Dean's Awards for Excellence in Teaching: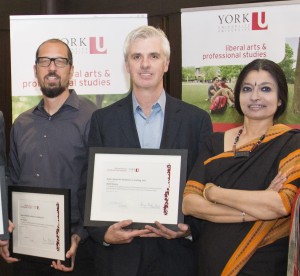 Professor David Doorey, School of Human Resource Management (Full-Time Tenured Faculty category)
David Doorey's students meet the high standards that he sets thanks to his engaging, interdisciplinary and innovative teaching style. In his own words, "I am fortunate because despite years of academic and professional experience in the field, I continue to find the material endlessly fascinating. I work hard to convey this enthusiasm and energy to students in the classroom."
Professor Robert Heynen, Department of Communication Studies (Contract Faculty category)
Rob Heynen has the invaluable ability to capture his students' attention, whether teaching a class of a few or lecturing to hundreds. Just as he educates students, he credits them with informing the evolution of his approach to teaching. "I have come to value teaching as the most rewarding, challenging and enjoyable aspect of academic life," he says.
Caitlin McKinney, Department of Communication Studies (Teaching Assistant category)
Caitlin McKinney's classroom is a supportive space for students to become creative and intellectual risk-takers. She fosters what she calls "intellectual empathy" where she builds her students' critical skills by encouraging them to understand and apply perspectives other than their own. McKinney won while completing her PhD in Communication and Culture.
Congratulations to the winners of the 2013-2014 Dean's Awards for Excellence in Teaching:

Professor Michael Gilbert, Department of Philosophy (Full-Time Tenured Faculty category)
Professor Michael Gilbert is committed to deep and sustained student learning. He connects with students on an individual level and relates course material to their everyday lives. Gilbert uses transformative learning methods that challenge students to think beyond the walls of the university. His creative teaching strategies encourage students to explore the curriculum in depth and to share their new knowledge with their peers. "I assume students want to learn. I try to get everyone to feel engaged, to connect with them on an individual level," he says. Gilbert is a leader in pedagogy and curriculum development and has lectured extensively in the U.S. and Mexico. He is also renowned for his research on sex and gender theory.
Elizabeth Brulé, Department of Equity Studies (Contract Faculty category)
Professor Elizabeth Brulé draws her students into the heart of critical social issues through innovative teaching techniques. Her students conduct socially relevant research with community organizations where they find out first-hand how these organizations work towards their goals. As Brulé says, "The students inspire me. When you challenge them to think outside the box, they really love it; when you respect them and their learning processes, they rise to the occasion." Brulé is a vital member of the academic community at York, sharing her expertise with colleagues through workshops, speaking engagements and conferences.
Lisa Violo, School of Administrative Studies and School of Human Resource Management (Contract Faculty category)
Professor Lisa Violo uses experiential learning techniques to prepare her students for the workplace. In her classes, students acquire deep theoretical understanding and practical knowledge that stays with them long after graduation. A professional learning consultant, Violo brings to class case studies, training videos and guest speakers that give students practical benefits. "I learn as much from them as they do from me," says Violo. A lifelong student, Violo continues to pursue other degrees and professional credentials to further her personal growth and her positive impact on students.
Yael Machtinger, Department of Social Science (Teaching Assistant category)
Teaching Assistant Yael Machtinger makes it a point to get to know all of her students and help them unleash their potential. She has the ability to connect with first-year students and help them become confident learners. Machtinger's teaching techniques include Read, Round and Review, in which students zoom in and out of different concepts and learn to connect these with the course's overarching goals. Machtinger, who also received a President's University-Wide Teaching Award, says, "My goal is to help students actualize their potential and become who they want to be. Seeing them grow towards this makes me want to be a better teacher."