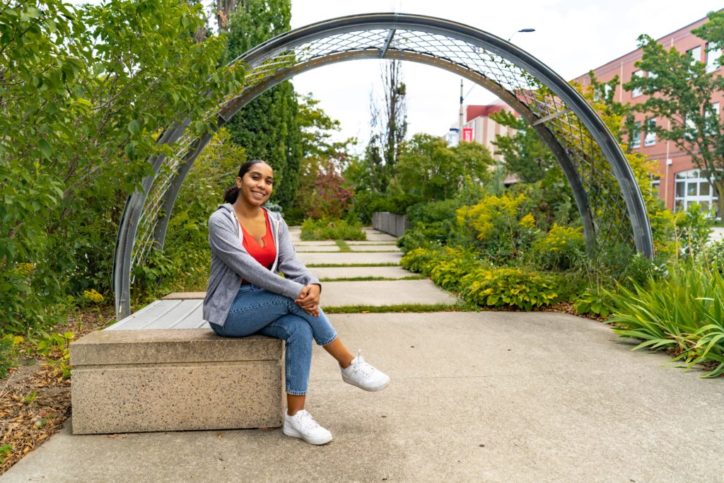 Penelope Guevara, who begins studying criminology at York University this fall, was nervous and confused when she was invited to a Zoom meeting with JJ McMurtry, dean of the Faculty of Liberal Arts & Professional Studies, over the summer.
"I thought I was in trouble," she told the dean.
Guevara was in for a pleasant surprise, however, as McMurtry had invited her on the call to inform her that out of 14,000 students, she had been chosen as the recipient of one year of free tuition.
"It was a big shock," Guevara said after winning York's first-year free tuition contest. She explained that when she applied to the contest, she didn't expect to win at all. She joked that the prize may be a bigger relief for her mother than for herself.
After spending the summer thinking about OSAP and struggling with how to pay for her education, Guevara feels she is now free to focus on her studies and the work that lies ahead.
Guevara, who hopes to eventually become a lawyer, is entering the criminology program at York because she wants to help people who are at a disadvantage and can't afford help with navigating the criminal justice system.
"I see how much people of colour in society really struggle and they can't really fend for themselves because of how the justice system works," Guevara said. "I want to be the person there for them to go to when they are in trouble."
Her passion for giving back to her community was sparked by a high school law teacher who recognized her passion for helping people and encouraged her to explore a legal career. "Without his push I don't really think I would be here right now," she said.
Guevara says that a university education will be critical to achieving her goals and helping those in dire need. "Having the higher education, I feel helps me go farther, and helps me to achieve anything."
She was drawn to York University because of the institution's inclusivity and focus on social justice, and says the University seems like a perfect fit for her. "I'm about being inclusive and being there for others, so me and York have a lot in common."
Originally published in YFile.