ECON 1000
Introduction to Microeconomics
---
PASS Session Information
To find information about your session, select your section of the course from the listing below.
---
If the session is offered over Zoom, before attempting to meet on Zoom, make sure that you're joining the call at the appropriate day and time!
Hello everyone, My name is Vanshika Makhija and I'm a third year Financial and Business Economics student. I am the PASS leader for ECON 1000. Looking forward to meet you all this year! Fun facts about me: In my free time, I like to make dry pastel paintings and when I'm not travelling I like watching movies/shows in different languages as a way of immersing myself to different cultures.
— Vanshika Makhija, Pass Leader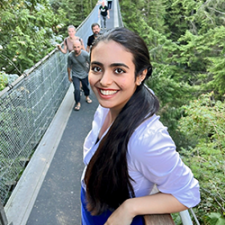 Hey! My name is Lena and I'm a fourth year Law & Society student. When I took ECON 1000/1010 two years ago, I fell in love with the courses. I'm thrilled to be coming back as a PASS Leader to help you on your academic journey! A fun fact about me is that I love to rollerblade. I can't wait to meet you!
— Albulena Shqiponja, Pass Leader