Welcome to another LA&PS Through the Ages, where we converse with longtime members of the LA&PS community about their academic history, personal insights, current roles and their fond memories at York University.
Stefanie Lamonaca Caputo is a Student Success & Academic Advisor in the Faculty of Liberal Arts & Professional Studies (LA&PS). Stefanie is hardworking, ambitious and caring and earned three degrees from York University with plans to attain a fourth. Her professional journey began nearly two decades ago and she continues to be a beacon of inspiration. With extensive professional experience, she is dedicated to supporting students and helping them in any way she can.
Outside of work, you'll find Stefanie exploring the outdoors or enjoying one of her many hobbies like tap dancing. Read on to get to know Stefanie and learn more about her incredible journey at York University.
What year did you begin working at York University?
I started in 2005 as a YUTA employee. The York University Temporary Agency (YUTA) is the internal agency that services York University's interim employee hiring needs. YUTA is responsible for sourcing, screening, recruiting and appointing employees throughout the University.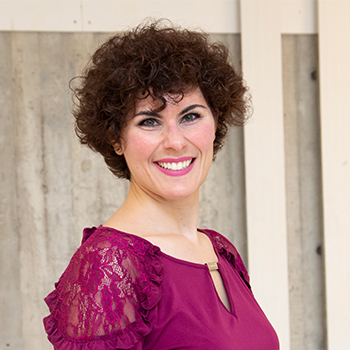 What do you enjoy most about being part of the LA&PS community?
What I enjoy most about my job is being able to shake hands and congratulate the students I have helped over the years at convocation. There is no greater satisfaction than the feeling of being a part of their journey and knowing I played a small role in their success. It also goes without saying that I work with amazing colleagues, both staff and faculty, who I consider to be my close friends. I enjoy being part of a team that strives to strengthen and mentor students. I do not think of it as a job, working at LA&PS feels like being a part of a big family.
What is your proudest accomplishment since coming to York?
I have many proud accomplishments! I have earned three degrees from York, a Bachelor of Environment Studies (BES), a Sociology Bachelor of Arts (BA) degree and a Master of Public Policy, Administration and Law (MPPAL). Since I love learning, I am currently pursuing my fourth, a Master of Education (MEd).
One of my most memorable accomplishments comes from working in the Department of Electrical Engineering and Computer Science (EECS) in Lassonde. I initiated and launched the first ethics subcommittee on behalf of the Planning, Academic Resources and Research
(PARR) Committee. Even though I no longer work there, this subcommittee continues to operate today.
Since 2013, I have played an essential role in York University's Staff Association (YUSA) as a Union Steward which allowed me to advocate and communicate work condition agreements. At the moment, I am on leave while I fulfill my two-year term on the Board of Governors after being appointed in 2021.
What inspires you at work each day?
I think what inspires me most each day is knowing that I have the ability to change a student's life by providing help even if it's in a minor way. I love every aspect of this job whether it's updating a checklist, supplying information or listening to their stories. As a student myself, I can empathize with them and truly understand their moments of happiness and frustration. I am glad that I can support them on their academic journey.
Now, a fun question! What keeps you busy outside the office?
I enjoy learning new musical instruments and am capable of playing the flute, clarinet, and tenor saxophone. I feel liberated while I sing in English and Italian. Tap dancing is another hidden talent of mine. I always find joy in picking up a new skill or hobby. Another fun fact is that I completed the 2019 United Way CN Tower Climb in under 40 minutes!
What is a quote that inspires you?
Winston Churchill once said, "Success is not final; failure is not fatal: it is the courage to continue that counts".