York University's Faculty of Liberal Arts & Professional Studies (LA&PS) welcomes its Fall 2023 writer-in-residence, the award-winning Canadian writer and York alumnus Shyam Selvadurai, with a reading from his new novel, Mansions of the Moon, on Sept. 13 at 1:30 p.m. in the McLaughlin Junior Common Room(MC 014).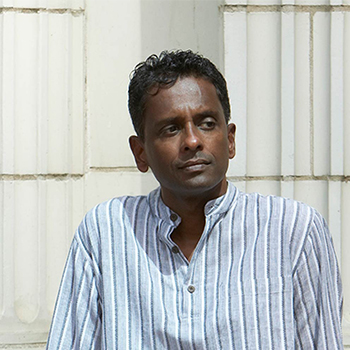 Born in Colombo, Sri Lanka, Selvadurai moved to Toronto with his family in 1983. He earned a BFA in theatre directing and playwriting from York and an MFA in creative writing from the University of British Columbia.
Selvadurai is the author of Funny Boy, Cinnamon Gardens, Swimming in the Monsoon Sea and The Hungry Ghosts. His work has won the WH Smith/Books in Canada First Novel Award, the Lambda Literary Award and the Canadian Library Association Book of the Year Award, and has been shortlisted for the the Governor General's Literary Award. He is also the editor of Story-Wallah: A Celebration of South Asian Fiction and a comprehensive anthology of Sri Lankan literature called Many Roads Through Paradise.
In 2012, in conjunction with the National Peace Council of Sri Lanka, Selvadurai began Write to Reconcile, a project bringing together emerging Sri Lankan writers to write on the issues of conflict, peace, reconciliation, memory and trauma in relation to Sri Lanka's civil war and the postwar period. The project resulted in three anthologies: Write to Reconcile, Write to Reconcile II and Write to Reconcile III. 
"I'm thrilled that Shyam Selvadurai will be joining us this fall," said LA&PS Dean J.J. McMurtry. "His work speaks for itself. It is deeply personal yet universal, touching on issues related to family, belonging and freedom of expression. Our students and Faculty will benefit greatly from his expertise and guidance."
The Writer-in-Residence Program connects faculty, staff and students with a professional writer for feedback, critiques and support. Four meetings per week are available by appointment through Calendly. In addition to providing consultations, Selvadurai will be hosting public readings, panel talks, writing workshops, classroom visits and other events.
On Oct. 25, Selvadurai will host a panel discussion with fellow authors Janika Oza and Larissa Lai. On Dec. 7, he will host acclaimed filmmaker Deepa Mehta for a screening and discussion of her new documentary film, I Am Sirat.
To register for any or all of these events, to book a manuscript consultation or to learn more about the Writer-in-Residence Program, visit Fall 2023 Writer-In-Residence: Shyam Selvadurai at LA&PS (yorku.ca).
Originally published in YFile.