Celebrate Your Achievements
The highest-achieving students in the Faculty of LA&PS are given the opportunity to become more engaged in the York community and develop leadership skills as part of the Dean's Circle of Student Scholars.
You're automatically invited to the Dean's Circle if you are:
A high school student who has an average of 90% or higher
A current student enrolled in 12 credits or more and maintaining at least an overall 8.0 GPA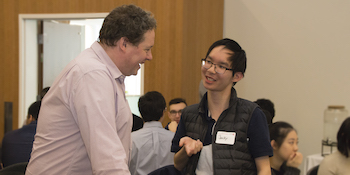 What are the benefits?
The dean holds monthly coffee sessions with Circle members, and you'll be invited to attend luncheons, guest lectures and networking events. You will also have access to a dedicated study space in the Ross Building. Inspiring and motivating individuals who have recently engaged with Circle members include a Ghanaian refugee who graduated from York and started an investment fund supporting African start-ups; a creative writing professor, who revealed her artistic process; and twin brothers (both in communication studies) who shared their experience in the York–Beihang University exchange program.