The wide-ranging ideas of Italian philosopher Giambattista Vico (1668-1744) on history, culture and myth have had a profound influence on the humanities and social sciences.
In 2000, Canadian Senator Jerry Grafstein donated to York two rare, Italian volumes of Vico's works that were originally published in 1746. Senator Grafstein garnered the support of Elvio DelZotto (LLB Osgoode and senior partner of DelZotto, Zorzi) who rallied Italian-Canadian business leaders to fund an annual lecture at York in memory of his law partner Fred Zorzi. This lecture series remains an important link between York University and the community, and particularly the Italian-Canadian community.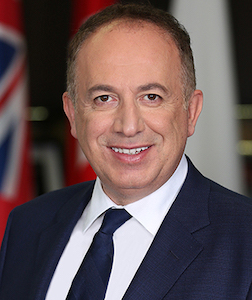 2019 Vico Lecture
Amore in the City: A purpose driven approach to public life
November 7, 2019
Last year's keynote address by Mayor of Vaughan, Maurizio Bevilacqua discussed his commitment to public service and the role of political leaders in shaping society. Over his 30-year career in politics, Bevilacqua has occupied several prominent positions at the federal level and municipal level, which gives him a unique perspective on public life, and political philosophy in action.
Past Events