Consider giving back to the Faculty and University that shaped your life. Gifts to York University can be arranged in many different ways.
Designate a gift in your will (called a legacy or bequest). This can be a specific amount or a percentage of your estate, and can be designated for a specific area that is meaningful to you.
Set up a named annual student award for as little as $1,000 per year.
A permanently named award can be created with a minimum $25,000 pledge or gift in your will.
Read on to learn other ways LA&PS alumni have already given back.
Plan your legacy at YorkU:
To learn more about making a gift either today or in the future, please reach out to us. We will carefully facilitate your gift and ensure it makes a lasting impact in a way that reflects your priorities and wishes. For more information visit Give to York website or contact:
Tom McLagan
Director of Development
Faculty of Liberal Arts & Professional Studies
416.736.2100, ext. 66690, tmclagan@yorku.ca
Marisa Barlas
Senior Development Officer, Gift Planning
Division of Advancement
416.650.8221, barlas@yorku.ca
---
Law and Society Program Founder Bestows an Enduring Gift
When the first class of five students graduated from York's Law & Society Program in 1976, Professor Jane Banfield wore a proud smile. The program was the first of its kind in North America and one of York's first interdisciplinary programs.
The late Professor C. Jane Banfield Haynes (LLB '54, MA '59, PhD '73) began teaching in York's Division of Social Sciences in 1968 and served York for 30 years. She founded the Law & Society Program in the early 1970's and served as the program director for many years. Jane was also York's first Advisor to the President on the Status of Women.
Jane had a brilliant mind and valued interdisciplinary teaching and studies. She held a law degree but decided to deploy her substantial intellectual resources in the service of the social sciences. Jane often said, "Law is far too important to be left just to the lawyers."
She was dedicated to student achievement – providing mentorship and opportunities to students whenever she could. In addition to her tireless dedication Jane was also a loyal annual supporter of York University.
In 2011, Jane became a founding member of York's White Rose Legacy Circle by including a bequest gift in her will to create new endowed scholarships. One scholarship will support students in the social sciences and the other will benefit women in the Bachelor of Commerce program. Both scholarships make a priority of helping graduates of York's Bridging Program for Women.
Jane's passion to serve York will now be permanently expressed through the C. Jane Banfield Scholarships. Jane explained that she felt compelled to give because York had given so much to her. Her roles at York were more than a job or a salary. They were opportunities to work with amazing people.
Jane was a true inspiration. She was a visionary contributor to a culture that defines York University as a champion of interdisciplinarity, equity and justice. Through her thoughtful legacy gift to York, the impact of her generous spirit will live on in many generations of students ahead.
This is an edited version of an article that was originally published in the December 10, 2018 issue of YFile.
---
Robert and Vicky Drummond's Timeless Legacy at York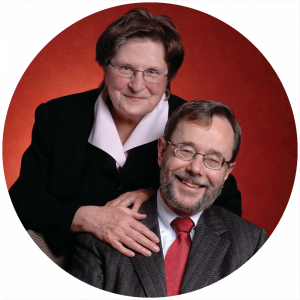 Since their combined tenures at York exceed the age of the University itself, it is no surprise that Robert Drummond (BA'67) and Vicky Drummond (MA'76) were motivated to create a permanent legacy to encourage and support York students well into the future.
Vicky Drummond completed her MA in Political Science at York in 1976. She worked at the Nellie Langford Rowell Women's Studies Library at York from 1986 and served as its coordinator from 1999 to 2016. She also worked with Canadian Women Studies Journal and Inanna Publications, housed at York, from 2002 to 2016.
Robert Drummond completed his BA in Political Science at York in 1967 and his MA and PhD at Northwestern University. He began teaching political science at York in 1970 and quickly became a recognized expert in the Ontario government. He served as dean of the Faculty of Arts from 2001 to 2009 and Chair of Senate from 2000-2001. He retired as university professor in 2012.
The Drummonds met in 1974 when Vicky came to York and enrolled in one of Professor Robert Drummond's classes. "He gave me the worst mark I ever received at York," she laughs. It wasn't until a few years later when a mutual friend suggested they get together that their romance began to blossom.
Robert is thankful that he received scholarships in three of his four years as an undergraduate student and Vicky received graduate fellowships. They reflect, "We could not have succeeded without that help and we are pleased to give back."
Deeply connected to the University, the Drummonds support York with an annual gift and left a generous bequest gift in their wills that will create two full-tuition awards, the Vicky A. Drummond Award in History and the Robert J. Drummond Award in Political Science.
Explains Robert. "A planned gift allows your name to live on and it contributes to the value and growth of the University and society as a whole."
Robert recalls, "Years ago there was an ad that said, 'If you think education is expensive, try ignorance.' The world needs well-informed, thoughtful and critical thinkers, and investing in students is the best way to achieve that goal."
---
Those Who Teach, Give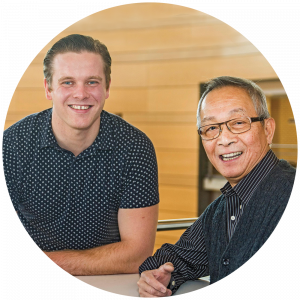 Larry Lam (PhD '83)
York sociology professor
Professor Larry Lam (R) meets Anthony Malone BA 2017 (major: criminology) (L), a student recipient of his named award.
Larry Lam's late wife used to say to him, "You are a professor. So, you should help the students!" So that's exactly what he did.
A few years ago, Larry Lam (PhD '83) set up the So Pui Ching Award in Sociology in memory of his wife. He also made a bequest to York University in his will and named York the beneficiary of his life insurance policy. The two planned gifts are designated to support students with financial need. When realized, the gifts will support about a dozen undergraduate sociology students, making the Dr. Larry Lam and So Pui Ching Award in Sociology the largest of its kind at York.
Larry, who served as York's sociology undergraduate program director for many years, knows first-hand the financial challenges faced by many students. He arrived in Toronto from Hong Kong in 1969 as an undergraduate student at the University of Toronto and worked part-time jobs during his postsecondary education.
"Some of my students worked 20 to 30 hours a week. It's hard for them," says Larry. "Many of their parents are immigrants and they are first-generation university students. Yes, some are wealthy, but most are not. That really motivated me to help."
"When I go, I can't take my possessions with me, so I will leave the students with a little something," he says. With no children of their own, Lam and his wife, a high school teacher, have devoted much of their time to helping students.
Anthony Malone (BA'17), a former sociology and criminology student, was one of the So Pui Ching Award recipients. "The award gave me the opportunity to focus more on my studies," he says. "I was able to meet and surpass my academic goals, while also being given the opportunity to help others reach theirs."
---
Retired York professors establish graduate award for Southeast Asian studies
Penny and John Van Esterik, recently retired York professors, have made a recent gift to support students while also creating a future legacy.
The couple recently established the Penny and John Van Esterik Award for Graduate Research on Southeast Asia with a tax-wise charitable gift of appreciated stocks to York. Their award supports graduate students traveling to Southeast Asia to conduct their research.
Penny and John also made a future gift of life insurance by naming York University as beneficiary of an existing life insurance policy they own. Once realized, this will double the size and impact of their award. The University recognizes their generosity as special members of York's White Rose Legacy Circle.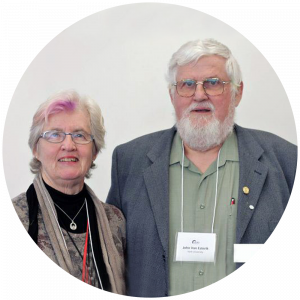 Retired York professors Penny and John Van Esterik
"We wanted to give York students the same opportunity that we were given when we were students," said Penny. "When John and I were studying for our PhDs in anthropology at the University of Illinois, we received small grants that helped us begin fieldwork in Thailand, which led to our lifelong engagement in Southeast Asian Studies."
Penny is a feminist anthropologist and one of the world's leading breastfeeding activists. She began her career with a focus on Southeast Asian studies as a result of the increasing demand for knowledge about Southeast Asia in the aftermath of the Vietnam War. She retired from York's Department of Anthropology in 2014.
John taught a survey course on Southeast Asia at York for more than 20 years. His research focuses on Thai Buddhist practice and Lao refugees in North America. He taught social science and anthropology courses at York until his retirement in 2008.
"We wanted to give something back to the York community in appreciation for all the support we got over the years, particularly from the Departments of Anthropology and Social Science.
The award will be offered annually to support graduate research activities, including travel. Preference will be given to doctoral students carrying out historical, cultural or artistic projects in the region. Masters students may also be considered, as well as students in financial need.
The inaugural Penny and John Van Esterik Award recipient, Sheila Htoo, was delighted to receive this support. "It enabled me to carry out my fieldwork in southeast Myanmar, which would not have been possible otherwise." She says, "I am moved by Penny and John's kindness, generosity and long-term vision."