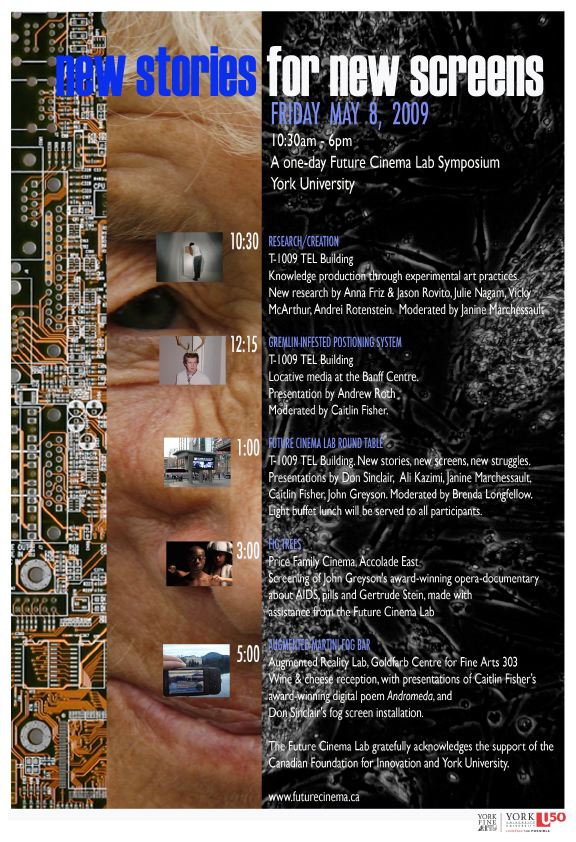 Friday May 8 • 10:30am-6pm
NEW STORIES FOR NEW SCREENS
A one-day Future Cinema Lab Symposium
T-1009, TEL Building, York University
10:30am RESEARCH/CREATION
Knowledge production through experimental art practices. New research by Anna Friz & Jason Rovito, Julie Nagam, Vicky McArthur, Andrei Rotenstein. Moderated by Janine Marchessault
12:15pm GREMLIN-INFESTED POSTIONING SYSTEM
Locative media at the Banff Centre. Presentation by Andrew Roth, moderated by Caitlin Fisher.
1:00pm FUTURE CINEMA LAB ROUND TABLE
New stories, new screens, new struggles. Presentations by Don Sinclair, Ali Kazimi, Janine Marchessault, Caitlin Fisher, John Greyson. A light buffet lunch will be served to all participants.
3:00pm FIG TREES
Price Family Cinema, Accolade East
Screening of John Greyson's award-winning opera-documentary about AIDS, pills and Gertrude Stein, made with assistance from the Future Cinema Lab
5:00 AUGMENTED REALITY FOG BAR
Augmented Reality Lab, Centre for Fine Arts 303
Wine & cheese reception, with presentations of Caitlin Fishers' award-winning digital poem Andromeda, and Don Sinclair's fog screen installation.